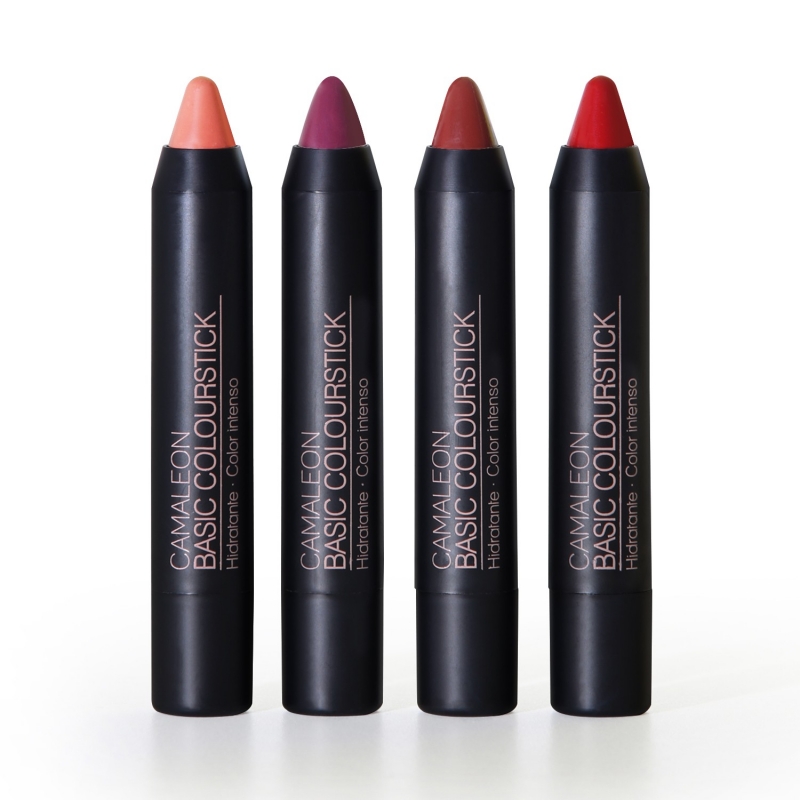  
BASIC COLOURSTICK PACK X 4
Irresistible colours!
Long-lasting and intense-coloured lipstick. Creamy textured lipsticks providing super coverage, the right texture to set perfectly, and an even shade which is very easy to apply. 
The perfect balance between hydration and duration.

4uds.
DESCRIPTION
The jumbo-sized Basic lipsticks are the result of a formulation with a high pigment content and high concentration of emollient agents, achieving the perfect synergy between hydration, duration and colour. 
Emollients give the Basic lipsticks the necessary texture and creaminess to set optimally, causing the colour to glide, evening the shade without any complications. 
The Basic range offers four easily combinable and very flattering shades, perfect for use on any occasion: red, earth, nude and aubergine.
INGREDIENTS
Aloe vera: extracted from the pulp of the leaves, it has an extraordinary hydrating, softening and regenerating capacity.
Rosehip: oil extracted from the seeds with a high fatty acid and vitamin content. Active ingredient which regenerates, softens and protects the skin against external aggressions.
Cocoa butter: it is a source of vitamin E, antioxidants and minerals; an active ingredient which hydrates and nourishes the skin.
Silicone-free, sulphate-free, paraben-free, suitable for coeliacs and with 100% recyclable packaging.
HOW TO USE
Apply directly to the lips with one stroke. Combine them together to increase your range of colours.
NATALIA F. published the 22/11/2020 following an order made on 24/10/2020
bueno y barato
José María G. published the 29/07/2020 following an order made on 02/07/2020
Excelente relación calidad/precio
Alba M. published the 12/06/2020 following an order made on 30/05/2020
Me encantan los basic colourstick