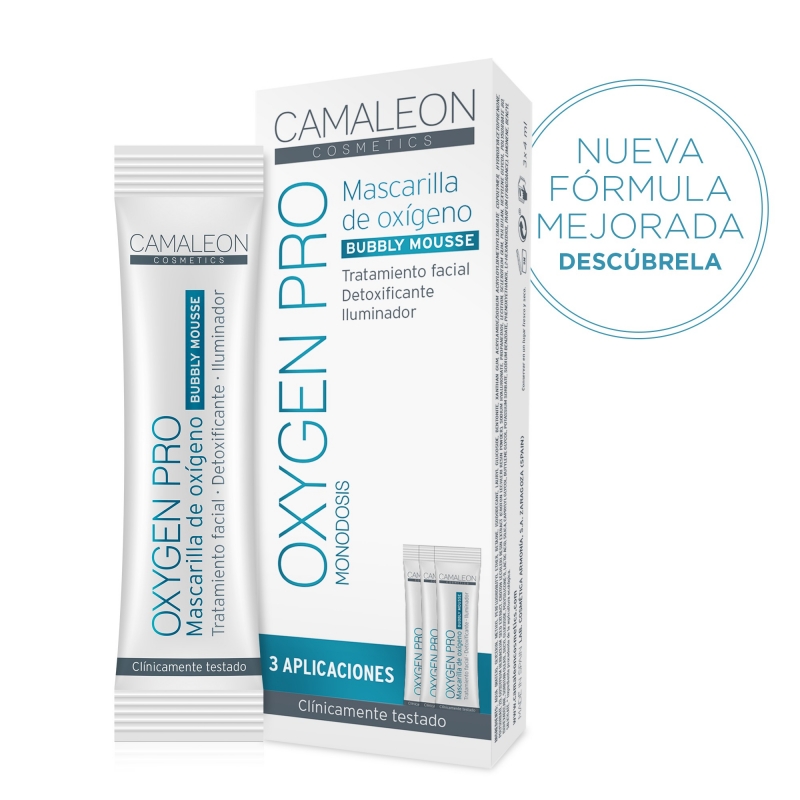  
OXYGEN PRO EFFERVESCENT MASK SINGLE DOSE
Innovative cell activator which deeply cleanses and restores radiance to dull, tired complexions.
Clinically tested professional treatment with oxygen microbubbles for all skin types, which delays the appearance of the signs of ageing.
CLINICALLY TESTED
PARABEN-FREE · SULPHATE-FREE

3 x 4ml
DESCRIPTION
Oxygen is the fuel of our cells, providing them with the necessary energy so that they can function correctly in the skin regeneration process, which results in cleansed, radiant and destressed skin.
Oxygen Pro is a professional treatment which increases oxygen levels and removes accumulated residues from skin cells. An extra dose of oxygen which helps to delay the appearance of the signs of ageing, encourages skin regeneration and healing, and reduces the appearance of acne.
Its effervescent effect provides a feeling of soothing freshness to achieve a smoother, more radiant appearance.
On contact with the skin, Oxygen Pro creates microbubbles which contain an oxygenating active ingredient. This is responsible for storing oxygen and carrying it to the cells with a lower oxygen concentration, while removing impurities.
NATURAL ACTIVE INGREDIENTS
Oxygenating active ingredient: provides oxygen, increases collagen production and encourages cell regeneration.
Cotton extract: high carbohydrate and protein content, which provide hydration and nourishment to the skin.
Hyaluronic acid: prevents water loss and helps to maintain hydration, while combating the signs of ageing.
Betaine: strengthens the protective skin barrier and reduces irritation.
INGREDIENTS
AQUA, GLYCERIN, PERFLUOROHEXANE, MAGNESIUM ALUMINUM SILICATE, KAOLIN, SODIUM LAUROYL OAT AMINO ACIDS, PERFLUORODECALIN, SODIUM HYALURONATE, GOSSYPIUM HERBACEUM SEED EXTRACT, HELIANTHUS ANNUUS SEED OIL, ADANSONIA DIGITATA FRUIT EXTRACT*, ADANSONIA DIGITATA SEED EXTRACT*, CROTON LECHLERI RESIN EXTRACT, TOCOPHEROL, PENTAFLUOROPROPANE, TETRASODIUM EDTA, PEG-40 HYDROGENATED CASTOR OIL, PEG-4 RAPESEEDAMIDE, OCTADECYL DI-T-BUTYL-4-HYDROXYHYDROCINNAMATE, TRIETHYL CITRATE, LACTIC ACID, XANTHAN GUM, POTASSIUM SORBATE, SODIUM BENZOATE, PROPANEDIOL, TROPOLONE, ETHYLHEXYLGLYCERIN, PHENOXYETHANOL, 1,2-HEXANEDIOL, CAPRYLYL GLYCOL, PARFUM.
HOW TO USE
Step 1
Spread a thin layer of product over cleansed skin using circular movements, avoiding the eye area.
Step 2
Leave for 3 to 5 minutes so that the microbubbles can act and penetrate the skin.
Step 3
Massage gently with wet hands and rinse the face with warm water.
IRENE S. published the 08/11/2021 following an order made on 13/10/2021
Muy diferente a todo lo que había probado. Te deja sensación una agradable sensación y rápida de aplicar. Repetiré.
Rosa P. published the 06/10/2021 following an order made on 11/09/2021
La verdad es que sorprende como actua y la sensación es muy diferente con otras mascarillas. No note especial luminosidad, solo la piel más suave,posiblemente la volvería a comprar.
Ángela T. published the 14/09/2021 following an order made on 10/07/2021
Nunca había probado una mascarilla de este tipo antes, deja la piel radiante, muy luminosa y bonita.
Laura L. published the 28/04/2021 following an order made on 13/04/2021
A falta de ver resultados en el tiempo, la sensación muy refrescante.
Estela M. published the 22/04/2021 following an order made on 09/04/2021
Me encantó su textura y evolución, al igual q su resultado final
Maria Q. published the 09/04/2021 following an order made on 30/03/2021
Oxygen Pro me gusta bastante, lástima que venga en monodosis y no haya tamaño más grande.