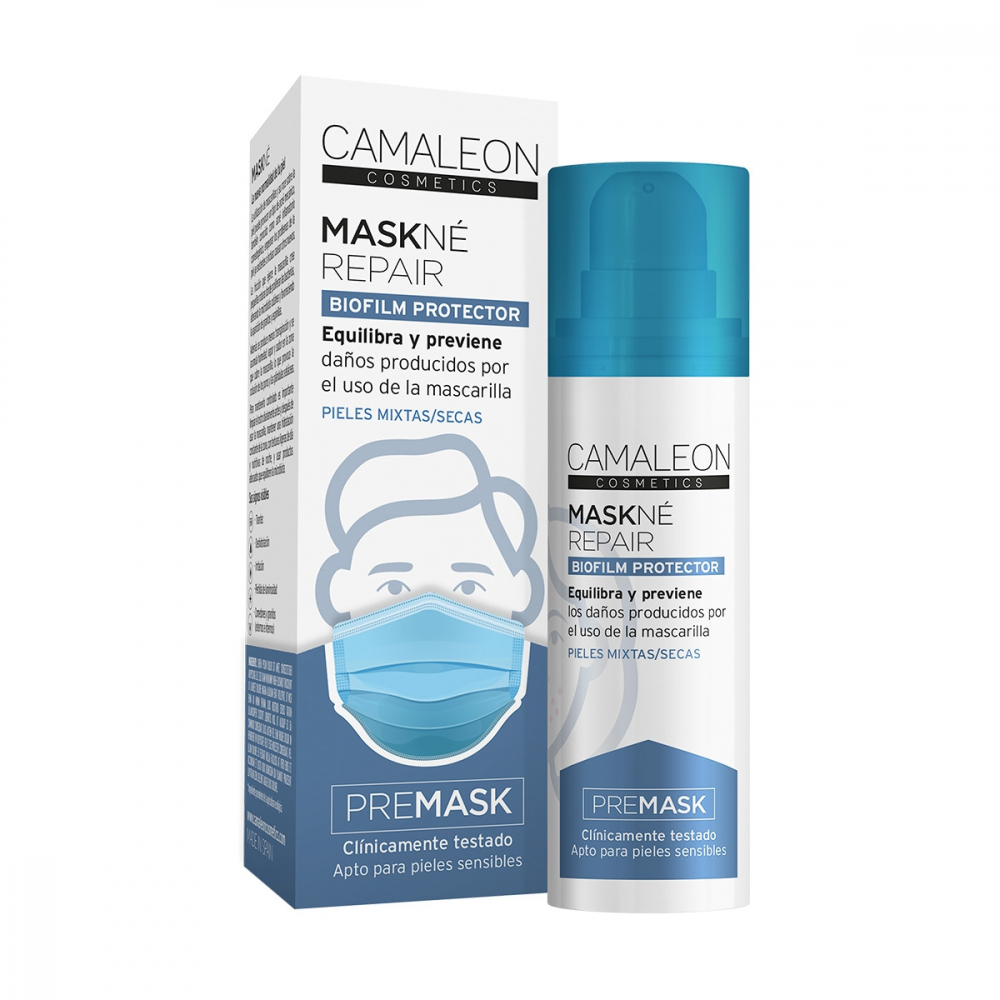  
BIOFILM PROTECTOR
The Maskné Biofilm Protector, with moisturising agents, creates a protective layer on the skin that prevents the chafing of the mask, balances the skin flora and prevents the appearance of imperfections.
Its gel texture is quickly absorbed, light and refreshing.
CLINICALLY TESTED
SUITABLE FOR SENSITIVE SKIN

30ml
PROTECTS AND PREVENTS ACNE CAUSED BY MASKS
Wearing a mask for many hours throughout the day, on the street, at work, in the gym, when playing sport, etc., increases the humidity of the peribucal area, altering the skin barrier and resulting in damage, such as external and internal pimples.
To protect and prevent acne caused by masks, the skin's barrier function must be maintained in a good condition. To do this, products that contain soothing active ingredients and ingredients that balance the skin flora must be used.
In this new normal, the skin will be kept in a constantly humid environment, so it is essential to use a non-greasy product that does not clog the pores and balances the skin flora.
The skin flora is the collection of microorganisms found in our skin whose function is to protect and defend the skin barrier. The use of a mask can result in an imbalance of this flora, known as dysbiosis. To prevent this from happening, the MASKNÉ REPAIR range is formulated with moisturising and protective agents, as well as a prebiotic complex, to help keep the skin in good condition and to prevent the appearance of blemishes.
NATURAL ACTIVE INGREDIENTS
Chia oil: soothing and anti-redness effect. Provides exceptional hydration. Restores the skin barrier. Active anti-ageing ingredient due to its high ability to block free radicals. Super food for the skin, loaded with high levels of phytonutrients.
Bisabolol: the active ingredient in camomile, soothing, anti-irritant, softening, perfect for use on very dry, dehydrated or sensitive and damaged skin.
Prebiotic complex: formulated with natural active ingredients that fight against skin problems caused by a microbial imbalance (acne, dryness, itchiness, etc.) by helping to protect the skin's natural defence mechanisms.
Concentrated thermal water: rich in trace elements. Combats the premature ageing of the dermis, soothes the skin, prevents irritation and refreshes the skin.
Almond and camomile oil: repairing, nourishing and soothing active ingredients.
Rosemary extract: with antioxidant effect.
INGREDIENTS
AQUA (WATER), PROPANEDIOL, GLYCERIN. ORYZA SATIVA (ARROZ) STARCH, PRUNUS AMYGDALUS DULCIS (ALMENDRAS DULCES) OIL, ANTHEMIS NOBILIS (CAMOMILA) FLOWER WATER, SALVIA HISPANICA (CHÍA) SEED OIL, ROSMARINUS OFFICINALIS (ROMERO) LEAF EXTRACT, HELIANTHUS ANNUUS (GIRASOL) SEED OIL, XYLITOL, LACTITOL, BISABOLOL, CARBOMER, MENTHYL LACTATE, OLUS (VEGETABLE) OIL, CAPRYLIC/CAPRIC TRIGLYCERIDE, C12-20 ACID PEG-8 ESTER, CETYL PHOSPHATE, TROMETHAMINE, HYDROXYACETOPHENONE, CAPRYLYL GLYCOL, 1,2-HEXANEDIOL, CITRIC ACID, SODIUM BENZOATE, POTASSIUM SORBATE, PARFUM (FRAGANCE), GERANIOL, LINALOOL, BENZYL SALICYLATE, FARNESOL, HEXYL CINNAMAL, CARAMEL.
FORMULA ADAPTED TO YOUR SKIN  
Applying the  Biofilm Protector before using a mask reinforces the skin barrier and provides a feeling of well-being by calming the effects of using a mask. It creates a protective film between your skin and the mask to protect it from rubbing and irritation.
The  Biofilm Protector, with moisturising agents, creates a protective layer on the skin that prevents the chafing of the mask, balances the skin flora and prevents the appearance of imperfections.
Its non-greasy gel-cream texture is quickly absorbed, light and refreshing.
With emollients, bisabolol to calm the irritation caused by the friction of the mask, a prebiotic complex to regulate the flora, thermal water, chia oil, almond oil and camomile oil.
As part of your beauty routine, apply the Biofilm Protector after your usual skincare (contour, serum, cream, oil, sunscreen, etc.) and before putting on the mask. If you wish to use make-up, apply the Biofilm Protector first.
HOW TO USE
Apply to clean, dry skin before using a mask and after your usual cream. Apply the Biofilm Protector before make-up. For complete protection against the mask, we recommend using it in conjunction with the Skin Defense Mist.
Eva G. published the 30/04/2022 following an order made on 01/04/2022
mejora los granitos de la cara provocados por el uso de la mascarilla
Marta P. published the 08/03/2022 following an order made on 11/02/2022
Me encanta este producto,lo uso desde que empezó la pandemia y la verdad que me salen mucho menos acné que al principio. Muy contenta
Victoria L. published the 27/02/2022 following an order made on 01/02/2022
Es ideal para cuando llevas mucho tiempo la mascarilla me ha encantado
Patricia G. published the 11/02/2022 following an order made on 17/01/2022
El unico producto para el acné provocado por las mascarillas que me funciona. Habia ultilizado muchos otros antes sin obtener resultados, y a la semana de utilizar este ya empecé a notarlo, estoy encantada! La textura es gel-crema, absorbe en pocos segundos y deja la piel suave y 0 grasa. Es el 4o bote que compro, ya no puedo vivir sin él!
Elvira R. published the 07/02/2022 following an order made on 11/01/2022
Lo uso siempre que llevo mascarilla, y es efectivo, cumple lo que promete.
Isabel María N. published the 17/06/2021 following an order made on 05/06/2021
Me ha ayudado bastante al evitar quie me salgan granitos