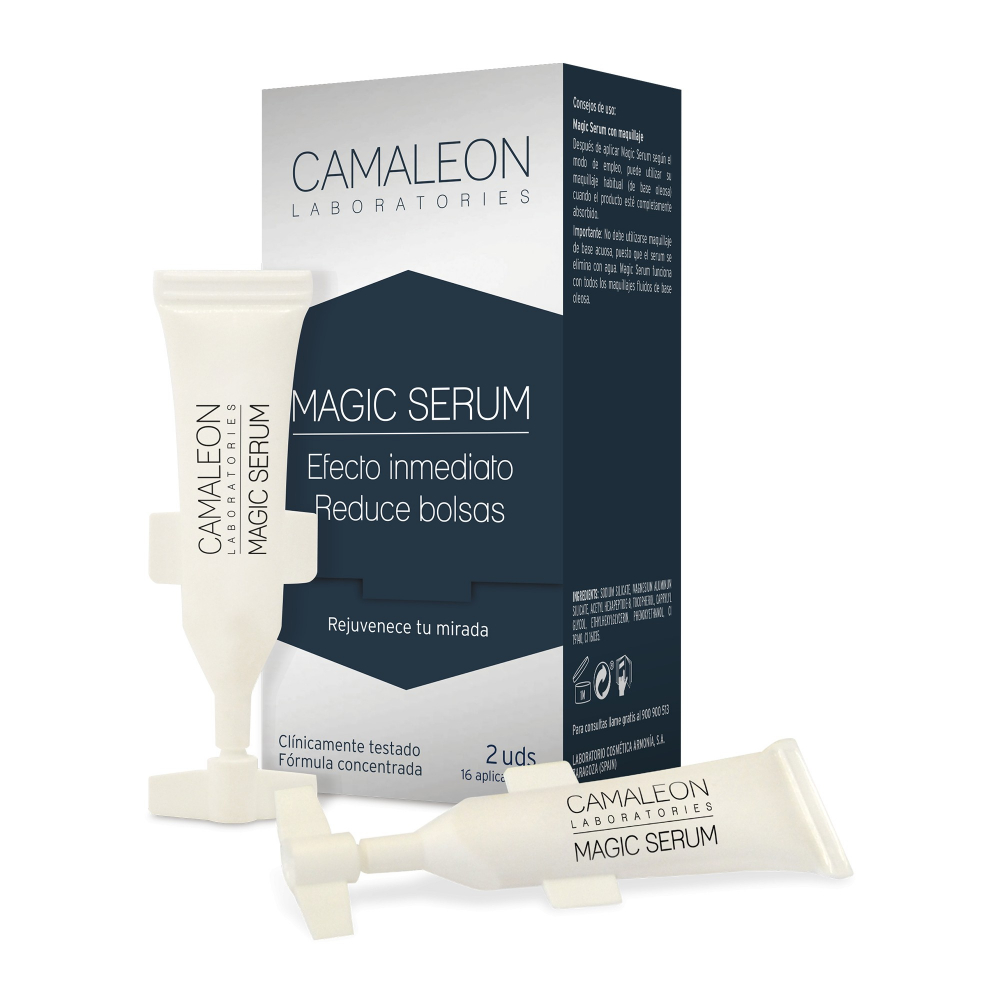  
MAGIC SERUM
Immediately reduces eye bags!
Corrects the visible signs of skin ageing, providing a more youthful appearance in record time.
Acts effectively on eye bags and fine expression lines.
Amazing immediate results.
CLINICALLY TESTED

2uds x 2ml

1M
DESCRIPCTION
MAGIC SERUM is a specific cosmetic for immediately reducing eye bags and dark circles. Formulated with mineral active ingredients and peptides, it provides an immediate tightening effect which smooths and visibly corrects eye bags, wrinkles and signs of fatigue. 
Eye bags and dark circles, which appear due to factors such as genetics, age, diet, lack of sleep and general bad habits, are very difficult to get rid of completely by using conventional treatments. Unlike long-term treatments, MAGIC SERUM acts immediately to visibly correct the signs of tiredness and fatigue, adding radiance to the eyes in just a few seconds. 
Clinical studies prove its efficacy:
90% Immediate tightening effect
80% Reduction of eye bags and dark circles
80% Reduction of expression lines
Dermatologically tested
The results of the "Use test* for the acceptability, subjective efficacy and tolerance of a cosmetic product", demonstrate that Magic Serum by CAMALEON COSMETICS is non-irritating, and therefore, it has very good skin and eye compatibility.
* Studies carried out by Zurko Research S.L.
INGREDIENTS
Contains two cosmetic active ingredients which, when combined, create a highly effective product. 
Argireline®, a hexapeptide developed using molecular engineering, which has revolutionised the current world of cosmetics for being an excellent anti-wrinkle ingredient which reduces muscle contractions and expression lines and is highly effective against the formation of new wrinkles. 
Silicate mineral active ingredients, known for their powerful cosmetic activity, which promote a skin-tightening effect and achieve a temporary eye bag-reducing effect, counteracting the natural ageing process. Silicates have a water-absorbing and water-capturing property, a very useful quality for correcting flaws around the eyes. 
HOW TO USE
It's important to know that the key to the success of MAGIC SERUM lies in two essential factors:
The amount of product applied: Too much product does not improve the results. The appearance of white residue indicates that the required dose has been exceeded.
How to apply the product: Once the product is applied, it's important that no gestures are made until it is absorbed. The results are visible immediately, although the ideal result occurs after a few minutes. 
Step 1: Open the bottle and put a drop* of Magic Serum on your index finger.
Step 2: Apply Magic Serum to a dry face, using small tapping motions on the eye bag area.
Step 3: Wait 40/60 seconds without making any gestures.
Step 4: You can speed up the process by fanning the area.
Once the product is totally absorbed, you can use oil-based make-up, but not water-based, as this will counteract the effect of the product.
* An amount the size of a grain of rice is enough for each eye.
Teresa M. published the 22/04/2021 following an order made on 10/04/2021
Cumple las expectativas
RUTH G. published the 04/02/2021 following an order made on 25/01/2021
Me gusta mucho
Lorena P. published the 29/01/2021 following an order made on 18/01/2021
Muy contenta
Montse D. published the 16/01/2021 following an order made on 21/12/2020
El producto no está mal aunque no he notado mucho el efecto antibolsa.
Pilar A. published the 08/01/2021 following an order made on 26/12/2020
Realmente las bolsas y líneas de expresión desaparecen al poco de echarse el producto Hay que usar muy poca cantidad lo que permite que dure mucho más
Carmen G. published the 15/12/2020 following an order made on 29/11/2020
Efectivo, resultado sorprendente