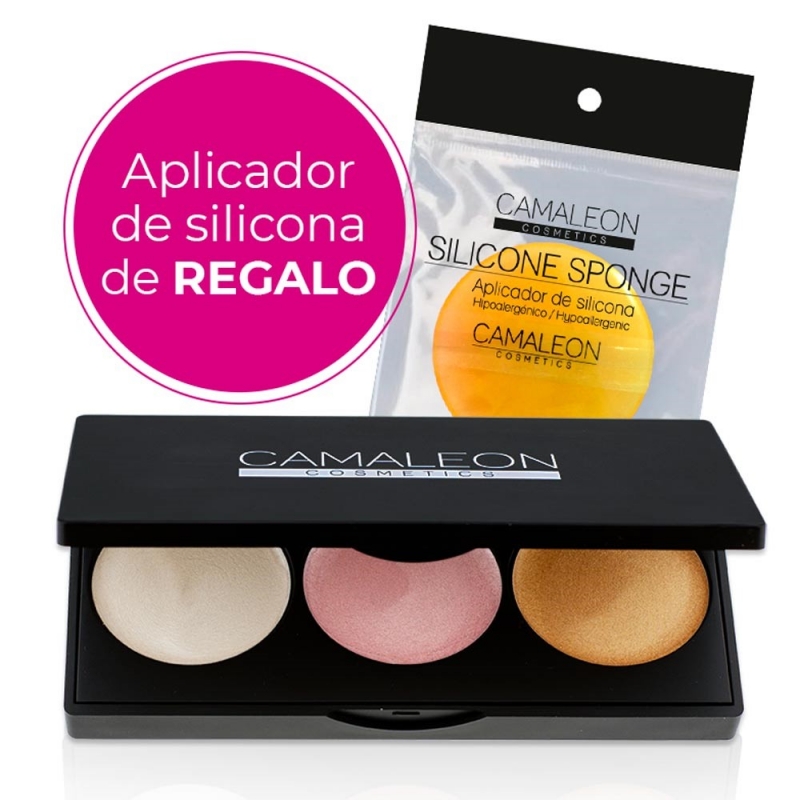  
HIGHLIGHTER PALETTE
Highlight and illuminate your skin in a natural way
Get a radiant look with or without make-up, thanks to this 100% natural highlighter in a pearly shade.
Its formula with 100% natural ingredients adapts to any skin type or tone, achieving a radiant finish while caring for, restoring and hydrating your skin.

3 x 2,5g
DESCRIPTION
It's a very versatile multi-use product, as it can be used with or without make-up, applying just the one colour or combining them all in your make-up routine to achieve different looks.
As well as a highlighter, it can also be used as a blusher, eye shadow or on your lips to give them a luminous, iridescent touch; what more could you ask for!
This product contains light-reflecting particles, making the skin look noticeably more radiant and full of life, and helps to highlight the light points of your face for perfect make-up.
Use it during the day by applying one stroke for a luminous, natural finish, and at night, if you want to shine, apply an extra stroke to achieve a radiant, glowing look.
INGREDIENTS
Chia oil: rich in a high quantity of vitamins, minerals and antioxidant agents. Restores the skin barrier and has an anti-inflammatory effect which soothes itching, calms irritation and redness, and provides exceptional hydration.
Marula oil: has high skin penetration and a high concentration of Omega 3,6 and 9. It's characterised by its high antioxidant capacity, improving skin hydration and softness, and reducing redness and irritation.
Vitamin E: improves skin softness and restores the skin barrier.
Soya oil: powerful antioxidant which increases and maintains skin moisture levels and strengthens the protective barrier, preventing excessive dryness. Stimulates collagen.
Paraben-free, silicone-free and paraffin-free. This product is non-comedogenic, suitable for sensitive skins, and suitable for vegans.
Using your fingertips or a brush, apply directly to the desired area of the face or as a final step in your make-up routine. You can increase the intensity of the shade by repeating this step.
Where do I apply it?
1. Brow bone: achieves a wide-eyed look.
2. Eyelid: adds colour to your eyes. You can achieve a softer or stronger colour by repeating applications.
3. Inner corner of the eye: highlights your eyes, creating a light point.
4. Highest part of the cheekbones: highlights your cheeks and slims your face.
5. Along the septum to the tip of the nose: contours and achieves a perfect nose.
6. Cupid's bow: visually enhances your lips.
7. Centre of the chin: refines your face.
Get the most from your highlighter:
WITHOUT MAKE-UP. Applied without make-up, it achieves a natural effect, adding extra light to key parts of the face. Perfect for concealing a lack of sleep or tiredness.
WITH MAKE-UP. The final step in your make-up routine. Complete your make-up by highlighting the areas where light naturally falls.
MULTI-USE. The three available shades can be adapted to different skin tones. Use the complete palette to combine them and obtain results with different shades.
Patricia M. published the 07/05/2021 following an order made on 25/04/2021
El aplicador de silicona me crea duda de si tiene un film plastico que le envuelve y hay que quitarle o no...
CRISTINAI S. published the 11/03/2021 following an order made on 27/02/2021
ya lo había probado y sus resultados me gustaron mucho.
Victoria S. published the 02/02/2021 following an order made on 07/01/2021
MARAVILLOSO TOQUE LUMINOSO AUNQUE NO SE DIFERENCIAN MUCHO LAS TRES TONALIDADES
Ana B. published the 28/01/2021 following an order made on 15/01/2021
Encantada
ISABEL MARIA M. published the 28/01/2021 following an order made on 15/01/2021
Iluminadores preciosos, efectivos y muy suaves para la piel y los ojos. El blanco es mi favorito. En cada aplicación se gasta muy poco producto, parece que durará mucho.
Marta D. published the 22/01/2021 following an order made on 30/11/2020
Queda muy bien