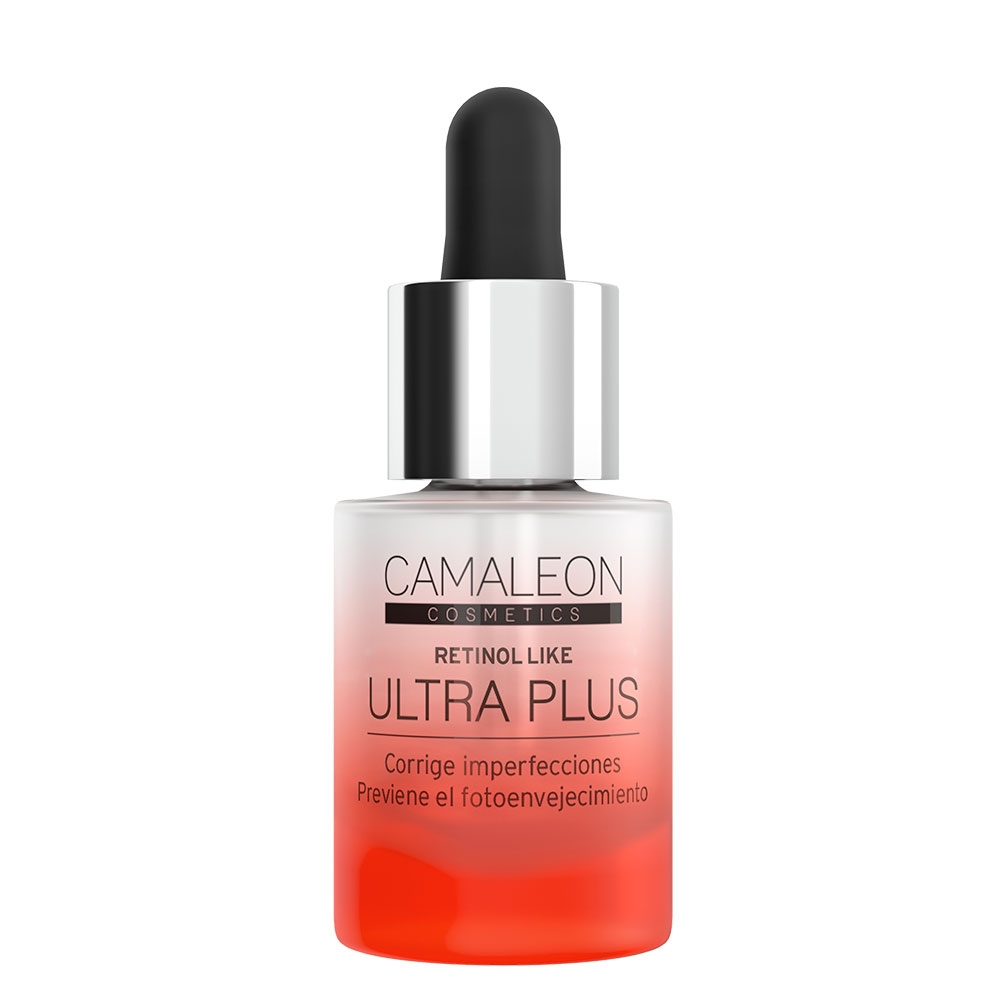  
BAKUCHIOL SERUM / RETINOL LIKE ULTRA PLUS
The natural alternative to retinol for sensitive skin
Bakuchiol serum, niacinamide and centella asiatica, made from 94.6% natural ingredients. The Retinol Like treatment is a combination of anti-wrinkle and anti-imperfection active agents which reduces expression lines and visibly improves marks and scars.
It acts as a cell regenerator without causing irritation, unifying the tone, lightening dark spots and softening wrinkles, leaving you with firmer, smoother skin.
SUITABLE FOR SENSITIVE SKIN
PARABEN FREE · SILICONE-FREE · PRESERVATIVE-FREE · COLOURING-FREE

15ml
BAKUCHIOL FACIAL SERUM
Bakuchiol serum is a vegan product painstakingly created so that all of its ingredients combine to make a unique and effective product. In addition to bakuchiol, it also contains ceramides to boost hydration and protect the skin barrier against external agents; niacinamide to unify the skin tone, smoothen its texture and reduce pores; and centella asiatica to regenerate the epithelium, helping reduce marks, scars and imperfections.
Designed for use on all skin types, especially the most sensitive and reactive, skin that has been overexposed to the sun and skin that is undergoing depigmentation treatment.  
It contains ORGANIC VEGETABLE WATER which boosts the efficacy of the formula's active ingredients, guaranteeing that all of their contents are fully absorbed. It is not photosensitising and it may be used at night. When you buy bakuchiol, you get a serum which attacks wrinkles, the effects of photoaging and acne imperfections, such as post-inflammatory marks, and it can be used day and night. 
WHAT IS BAKUCHIOL?
Bakuchiol is a natural ingredient extracted from the plant psoralea corylifolia, which is known for reducing expression lines, increasing elasticity and improving the texture and smoothness of the skin. 
Thanks to being tolerated by all skin types, bakuchiol does not cause any side effects like irritation, dryness, stinging or redness, which are often caused when using products that contain more aggressive ingredients. It is an ingredient that is completely safe and suitable for use by pregnant and breastfeeding women.
It also regulates sebum production and controls hyperkeratinisation, improving the appearance of pores and post-inflammatory marks.
INGREDIENTS
CITRUS LIMON FRUIT WATER*, PROPANEDIOL, METHYLPROPANEDIOL, GLYCERIN, CENTELLA ASIATICA EXTRACT, NIACINAMIDE, BAKUCHIOL, CERAMIDE 3, PLUKENETIA VOLUBILIS SEED OIL, OLEA EUROPAEA FRUIT OIL, LECITHIN, SCLEROTIUM GUM, AQUA, PULLULAN, XANTHAN GUM, CAPRYLYL GLYCOL, SILICA, TOCOPHEROL, CITRIC ACID, POLYGLYCERYL-10 LAURATE, POTASSIUM SORBATE, SODIUM ANISATE, PARFUM, BENZYL SALICYLATE, ALPHA-ISOMETHYL IONONE. *Ingredient sourced from organic farming. Natural ingredients.
DISCOVER YOUR IDEAL TREATMENT
We must not forget that our skin can occasionally or constantly suffer from different skin conditions that we can combat.
We offer the perfect treatment for each of these conditions: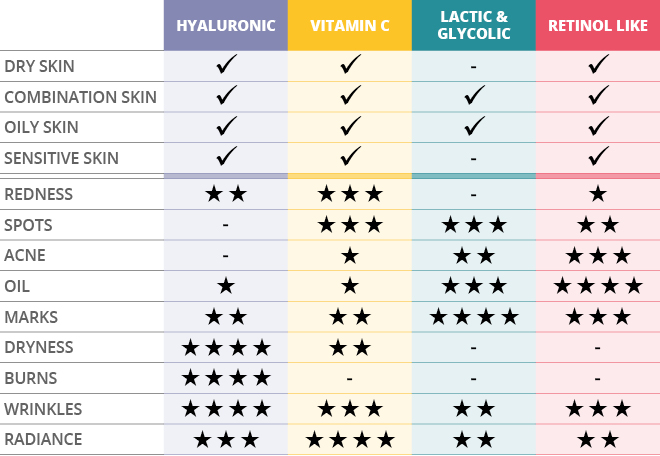 PROPERTIES OF BAKUCHIOL
Antiaging.
Firms and improves the texture of the skin.
Reduces the signs of photoaging on the skin.
Hyperpigmentation.
Reduces melanin production.
Antioxidant.
Anti-inflammatory, antifungal and antimicrobial.
It is not photosensitising so it may be used all year round.
USE OF BAKUCHIOL IN COSMETICS
Bakuchiol is a cosmetic ingredient which stimulates collagen and elastin production and restores the tone and elasticity of the skin. It is a powerful antioxidant which combats wrinkles and increases luminosity.
As a result of its properties, it is used in treatments to help improve cell renewal, treat damage caused by photoaging, and revert and correct sun damage, while unifying skin tone and lightening dark spots. It is a plant-based ingredient which does not cause irritation, making it perfect for sensitive and reactive skin.
HOW TO USE
Apply day and night to a dry, cleansed face, using light strokes. Only use a small amount as it is a light liquid. It can be used by applying it before your usual treatment or by adding a few drops of the serum to your cream at the time of application. 
It can be used all year round as it is not photosensitising, which means it can be used as a continuous anti-wrinkle treatment to obtain the best results. During the daytime, we recommend the use of sun protection after the serum. It can be used during pregnancy and breastfeeding.
Combine it with the Ultra Plus Hyaluronic serum to boost its anti-wrinkle action. 
Irene M. published the 27/04/2022 following an order made on 06/03/2022
Muy ligero y huele muy bien
Guadalupe B. published the 05/03/2022 following an order made on 07/02/2022
El serum es genial, pero el tamaño muy pequeño
Teresa D. published the 04/03/2022 following an order made on 07/02/2022
Al igual q los otros serum cunden bastante y es muy hidratante. La piel se nota más fina.
Esther T. published the 24/12/2021 following an order made on 24/11/2021
producto ligero, dura bastante
Ágata N. published the 14/09/2021 following an order made on 13/07/2021
El olor es espectacular. Se absorbe súper rápido y notas la piel suave y radiante.
Malena M. published the 15/05/2021 following an order made on 18/04/2021
Necesito un bote más grande!!!