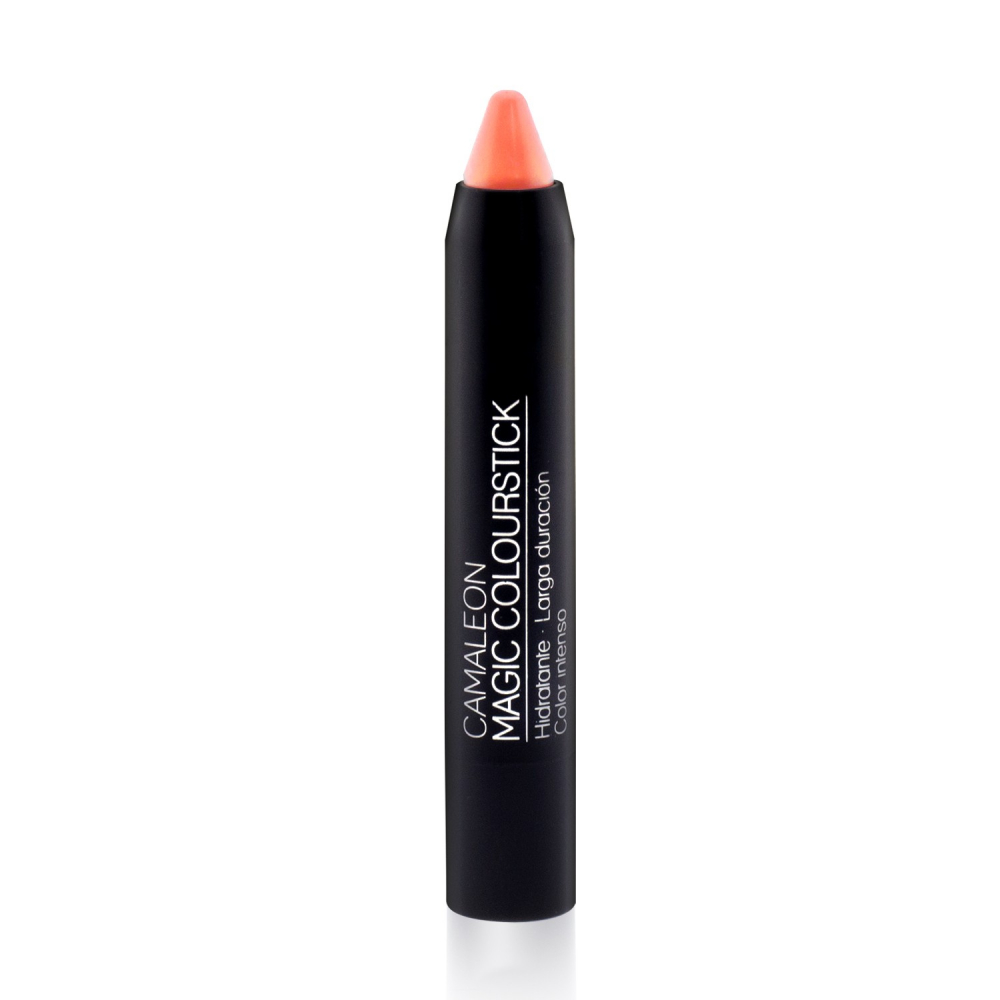  
MAGIC COLOURSTICK · PEACH
An explosion of colour!
All-day lipstick with a soft orange source colour which leaves a velvety peach shade. If what you want is to enhance the natural shade of your lips, then this is the colour for you.
DESCRIPTION
We are adding two new shades to the Magic family: coral and peach. Jumbo-sized all-day lipstick which treats the delicate skin of the lips while providing an intense shade in just one stroke. As well as adding colour, it has hydrating and nourishing properties to care for your lips, thanks to the natural active ingredients which are present in its formulation.
The key is in the pigments which react to the moisture of the lips to develop a unique colour in each person, maintaining a pink-toned base. Long-lasting, its colour is even water-resistant, without losing an inch of comfort while wearing it. It intensifies hours after application. And better still, it doesn't crack!
100% Spanish quality guarantee, this is a product which complies with European quality and safety standards.
INGREDIENTS
Aloe vera: extracted from the pulp of the leaves, it has an extraordinary hydrating, softening and regenerating capacity.
Rosehip: oil extracted from the seeds with a high fatty acid and vitamin content. Active ingredient which regenerates, softens and protects the skin against external aggressions.
Cocoa butter: it is a source of vitamin E, antioxidants and minerals; an active ingredient which hydrates and nourishes the skin.
Silicone-free, sulphate-free, paraben-free, suitable for coeliacs and with 100% recyclable packaging.
HOW TO USE
Apply directly to the lips with one stroke. To intensify the colour, repeat.
Irene D. published the 11/02/2021 following an order made on 13/01/2021
El producto es bueno, huele genial, pero el color no termina de convencerme. En la descripción pone " si buscas subir un tono al color natural de tus labios..." y para mi gusto es demasiado melocotón, los deja más tirando a naranja que subir un tono el color natural. Tuve el permanente gris y espera un resultado más parecido a ese que el obtenido con esta opción.
Noemí G. published the 11/02/2021 following an order made on 30/01/2021
No me gusta nada el color inicial que deja, pero después de reposarlo, me lo froto un poco con un kleenex, y el color se oscurece un poco y genial.
Beatriz A. published the 29/01/2021 following an order made on 18/01/2021
Esta muy bien y dura muchas horas
Rosana C. published the 28/12/2020 following an order made on 29/11/2020
Tengo el camaleón magic en gris y rojo y son preciosos . Me pedí el melocotón y aunque es un color muy veraniego lo noto más reseco que los otros dos .
Lorena C. published the 15/12/2020 following an order made on 30/11/2020
Cremoso, no sé cuartea, solo me aplico una capa para conseguir color sutil, ya que no estoy acostumbrada a pintarme. Dura mucho, incluso con mascarilla. Consejo : colorear y dejar que se asiente en el labio durante unos minutos antes de colocar mascarilla para salir y así consigo que quede en labios y no en mascarilla. Con el paso del tiempo pierde intensidad y color original.
Elvira R. published the 28/11/2020 following an order made on 15/11/2020
Genial, pero me equivoqué de color.