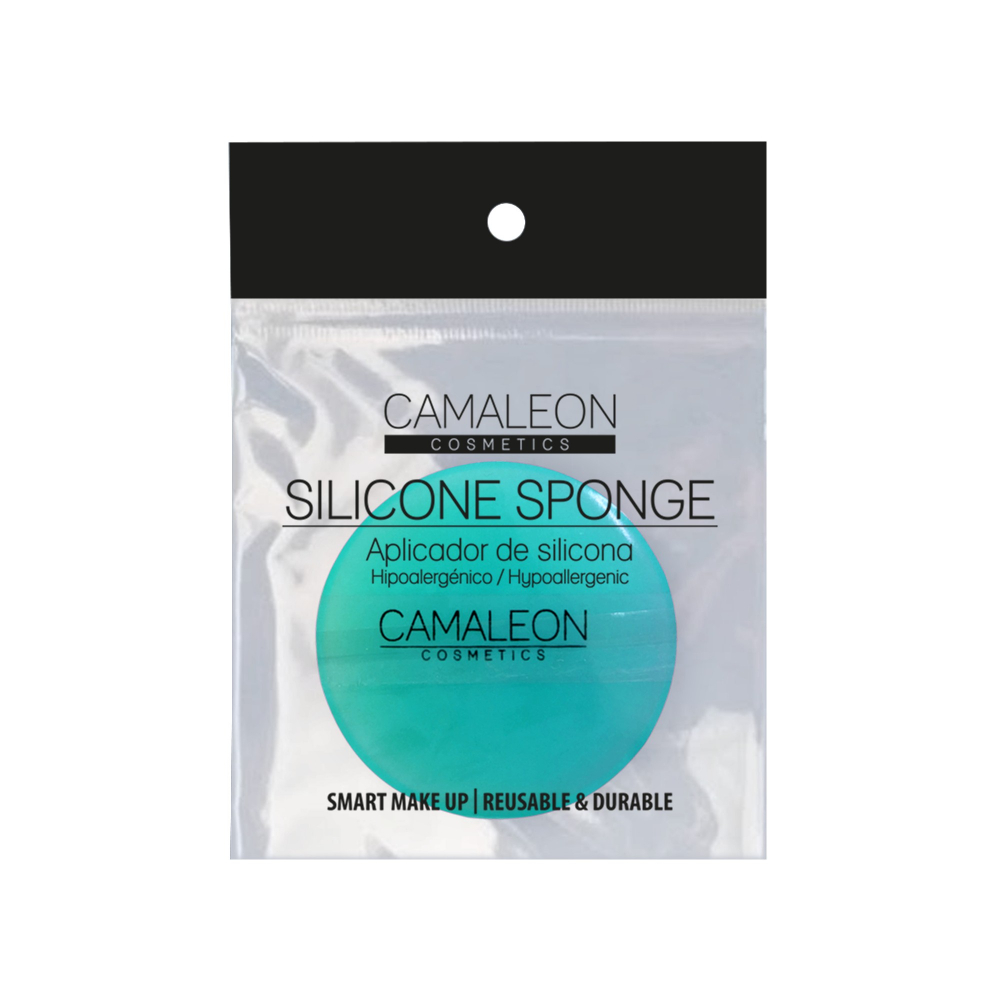  
SILICONE SPONGE
Available in 4 different colours
Hypoallergenic silicone applicator for fluid or cream make-up, concealers and blushes which lets you take advantage of the maximum amount of product. Suitable for all skin types, non-irritant, and unlike traditional sponges, it prevents the proliferation of bacteria.
Reusable and washable.
HYPOALLERGENIC

5 cm ∅
DESCRIPTION
The applicator is ideal for your make-up, BB cream, concealer and blush, whether fluid or cream. This silicone sponge is the intelligent solution for applying your colour cosmetics. Thanks to its composition and non-porous silicone coating, you will not waste any product. 
It can be washed and reused and remains in perfect condition for use for much longer. Moreover, as it is non-absorbent, you will be able to wash and use the same sponge with different products without any transfer of product from one to another. A much more hygienic solution than traditional sponges which tend to accumulate a lot of dirt and unpleasant odours. 
COMPOSITION
100% Medical-grade silicone.
Hypoallergenic sponge.
HOW TO USE
Put the product directly onto the skin or onto the applicator and spread over the desired area with small dabs.
Clean the silicone applicator with lukewarm water and soap after each use. Avoid contact with hot or sharp surfaces. 
José María F. published the 06/05/2022 following an order made on 10/04/2022
Muy práctica y bonita.
Inmaculada M. published the 22/04/2022 following an order made on 15/01/2022
Es una buena esponja pero no me apaño con ella para aplicar los iluminadores, que es para lo que la había comprado en un principio. Estos prefiero aplicarlos a toquecitos con los dedos. Tal vez la utilice más adelante o, puede que le encuentre otra aplicación.
Jesús María O. published the 11/03/2022 following an order made on 15/01/2022
Posiblemente es porque no la sepa utilizar, pero a mi no me ha gustado.
Comment from Camaleon Cosmetics the 17/02/2022
¡Hola María Jesús! Muchas gracias por tu valoración :) Para usar la esponja de silicona, tienes que coger el maquillaje a toquecitos y aplicarlo de la misma manera. ¡Saludos!
Glòria J. published the 23/10/2021 following an order made on 27/09/2021
Muy suave I delicada para mí piel sensible.
Pilar B. published the 05/10/2021 following an order made on 10/09/2021
Buena
Cristina N. published the 14/09/2021 following an order made on 08/07/2021
Me encanta el color