 
Special Edition Tin
A limited-edition tin with a very special design.
DESCRIPTION
Metal tin with a gloss finish and mirror included. Ideal for keeping up to two lipsticks in the bag or backpack. You can also use it to keep your little secrets.
MATERIAL AND DIMENSIONS
Material: Metal and mirror included.
Dimensions: 12,5cm length x 2,5cm height x 4cm width.
HOW TO USE
Open the box, keep your favorite lipstick and put it in the bag. Do not forget to use it whenever your lips need it. Show it to your friends, enjoy it!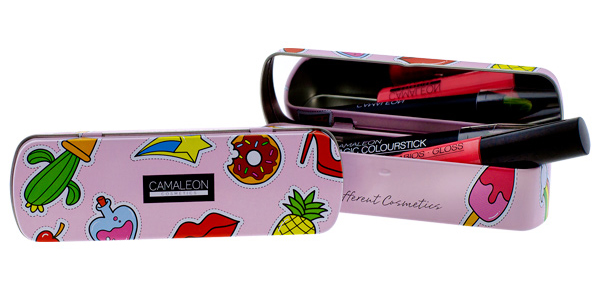 CRISTINA G. published the 21/09/2021 following an order made on 03/09/2021
Muy práctica para llevar a todas partes. Caben dos y también si quieres algún lápiz
Cristina N. published the 14/09/2021 following an order made on 08/07/2021
Un diseño muy práctico para el bolso o para el neceser de fin de semana
Llanos María M. published the 11/07/2021 following an order made on 29/06/2021
Muy bonito y muy bien de precio
Raquel G. published the 05/07/2021 following an order made on 23/06/2021
Es muy bonito y práctico, además de que está genial de precio
Yolanda G. published the 12/06/2021 following an order made on 15/05/2021
♥️♥️♥️♥️
Antonia G. published the 25/04/2021 following an order made on 13/04/2021
Es muy original