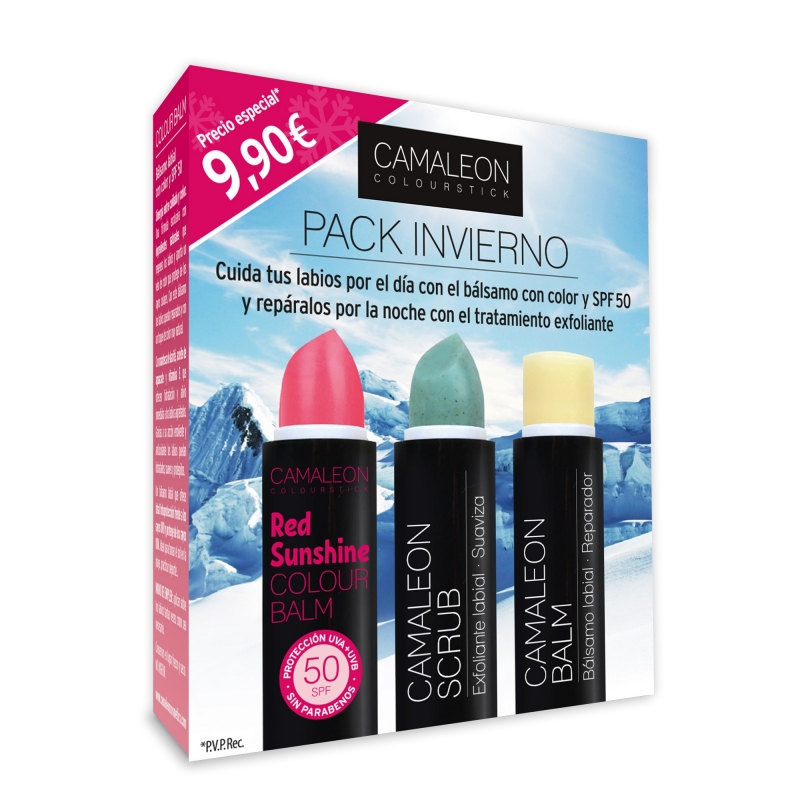  
WINTER KIT
Protects during the day, heals at night.
Tinted balm with SPF50, exfoliant and healing balm. Complete treatment for healed, hydrated lips in three simple steps.

3 x 4g
DESCRIPTION
The lips are one of the most sensitive and delicate areas of the face; their skin is fragile and thin, which causes them to dry out and crack easily, which can cause discomfort, stinging, pain, as well as looking unsightly. For this reason, it's very important to regularly use a good exfoliant and lip moisturiser. 
Furthermore, the skin of the lips doesn't contain any melanin like the rest of the body, which is why care and protection must be increased, whatever the season. 
Camaleon offers you the winter pack: exfoliation, hydration, protection and colour. 
The natural lip exfoliant contains active ingredients such as cocoa butter and rosehip, which remove impurities from the lips, leaving them soft and ready to be moisturised The lip balm, also formulated with jojoba oil and cocoa butter, cares for irritated lips, and the Red Sunshine Colour Balm with SPF 50 will protect you against the sun's rays while giving you a hint of natural colour. 
Thanks to the winter pack, your lips will be soft, hydrated and totally protected.
INGREDIENTS
Shea butter, avocado oil and vitamin E which provide immediate relief and hydration to chapped lips.
The particles in Camaleon exfoliant are of plant origin, specifically rosehip seeds.
HOW TO USE
Apply Colour Balm to lips as often as required. 

Use the exfoliant on chapped lips and lips with impurities, using a gentle pressure without damaging them.  Rub gently with the fingers to remove impurities.
Remove the exfoliating particles with a wipe and apply Camaleon Lip Balm to achieve soft, polished lips.
Laura V. published the 14/06/2020 following an order made on 30/05/2020
Me encanta
Patricia G. published the 11/06/2020 following an order made on 29/05/2020
Genial
Camino Del Maria D. published the 25/05/2020 following an order made on 28/04/2020
Guay
ANABEL G. published the 13/05/2020 following an order made on 27/04/2020
Imprescindible
Paloma S. published the 11/04/2020 following an order made on 25/03/2020
me deja los labios muy bien
Lorena F. published the 01/04/2020 following an order made on 17/03/2020
Reparación total para los labios secos. El exfoliante labial huele increible y es muy agradable en los labios. El precio insuperable. 100% recomendado.