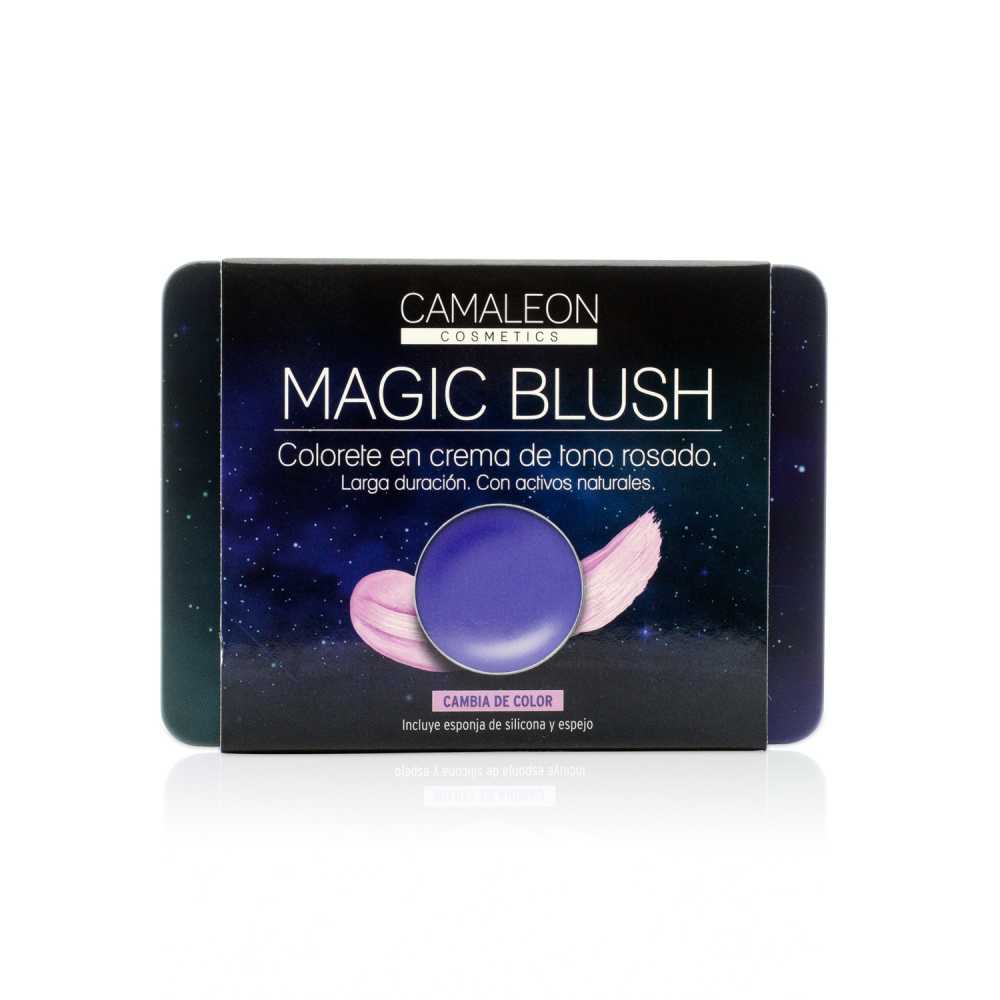  
MAGIC BLUSH BLUE
Includes silicone applicator and mirror.
Blue long-lasting cream blush which changes colour on contact with the skin, leaving your cheeks with a soft pink colour that gives your face a radiant appearance. Enriched with natural active ingredients, it gives you a touch of colour which stays perfect for hours thanks to its long-lasting formula. 

4g
DESCRIPTION
Its composition is rich in natural active agents such as avocado oil, jojoba oil and shea butter. These ingredients give it its creamy texture, easy to spread, making it very easy for you to apply. Moreover, thanks to this natural formula, you can care for your skin without giving up your touch of colour. Make the most of nature's properties and moisturise, soften and nourish your skin.
Another advantage is its long duration. This waterproof blush is resistant to water and sweat, so go to the office, go out for a walk, go to the gym or out for a drink with friends, and forget about touching it up! The colour stays right there, and lasts as long as you do.  And don't worry, it is easy to remove. A cleansing milk or facial soap will suffice.
Achieve that subtle colour in your cheeks to cheer your face every morning. And if you want a different touch for your make-up, apply a small dab of colour on the bridge of your nose as well. Combine it with a highlighter for the perfect luminous finishing touch.
INGREDIENTS
Avocado oil: a natural active agent, rich in fatty acids, which moisturises, softens and protects your skin.
Jojoba oil: provides extra hydration and nourishment. Its vitamin E makes it a perfect antioxidant.
Shea butter: this active agent rich in vitamin A helps to regenerate and revitalise your skin, giving it a radiant appearance.
HOW TO USE
Spread Magic Blush Blue over cheeks and/or cheekbones with the help of the applicator and wait a few moments for it to react with the skin. The colour intensifies with each application. We recommend using the applicator, as you may stain your fingertips.
Hypoallergenic blush and applicator.
Marta D. published the 22/01/2021 following an order made on 30/11/2020
Color muy bonito y duradero
Carolina T. published the 31/12/2020 following an order made on 27/11/2020
Deja un tono bonito y de mejilla saludable
Elisabet R. published the 04/10/2020 following an order made on 19/09/2020
Me gustó su aplicación. El envase se ve grande (la caja), pero el producto es ínfimo. Muy caro para la poca cantidad que contiene. En cuanto a los resultados, tienen la calidad de Camaleón, se ajusta perfectamente a mi piel y no produce granitos.
Sonia F. published the 16/08/2020 following an order made on 14/07/2020
Pensaba que sería un producto mucho más natural y lleva muchísimo químico. Vegano es sí, pero buscaba algo sin ingredientes "nocivos"
Irene A. published the 28/06/2020 following an order made on 16/06/2020
Hay que tener cuidado al aplicarlo para no pasarse, aun así me ha sorprendido.
Rosa R. published the 30/05/2020 following an order made on 19/05/2020
Muy buen producto.