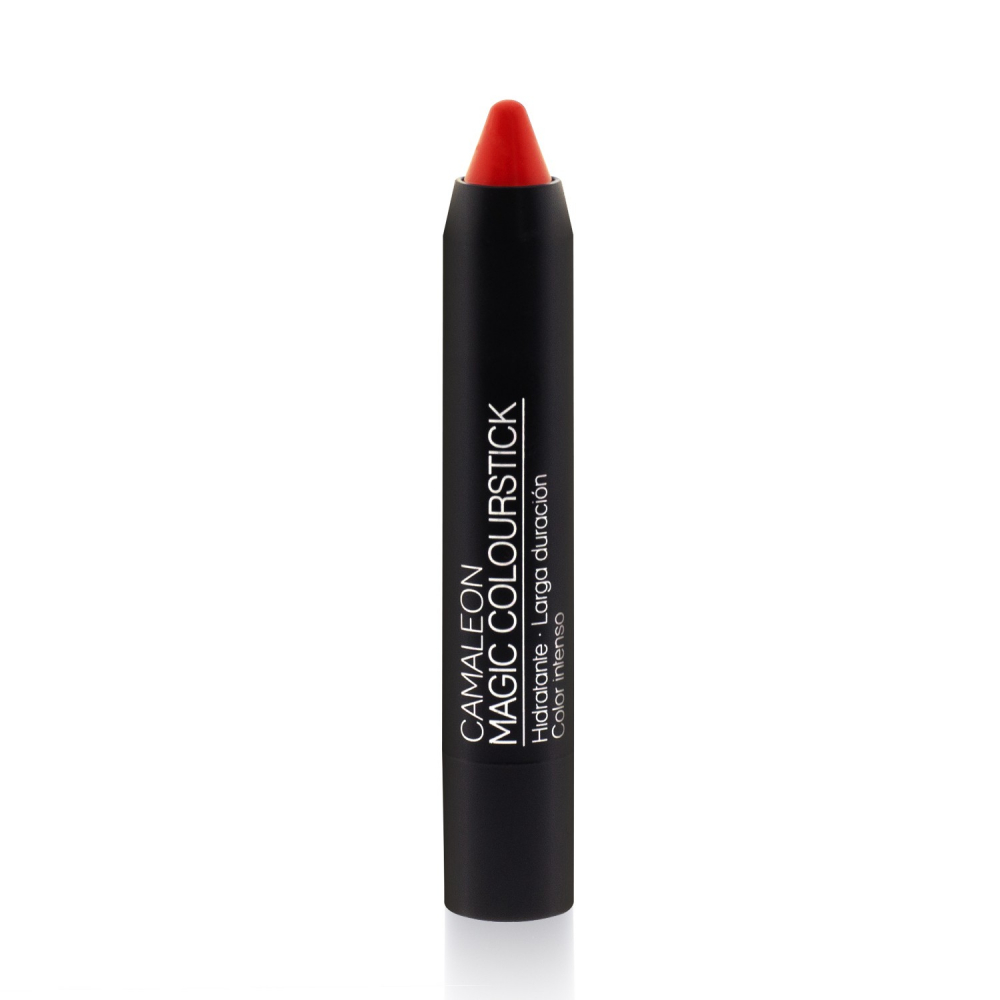  
MAGIC COLOURSTICK · CORAL
An explosion of colour!
All-day lipstick with an intense orange source colour that leaves a very flattering coral shade for all lip and skin tones. If you fancy a change from your usual red, you should definitely choose this colour; it maintains the red base, but with a more fun edge.
DESCRIPTION 
We are adding two new shades to the Magic family: coral and peach. Jumbo-sized all-day lipstick which treats the delicate skin of the lips while providing an intense shade in just one stroke. As well as adding colour, it has hydrating and nourishing properties to care for your lips, thanks to the natural active ingredients which are present in its formulation.
The key is in the pigments which react to the moisture of the lips to develop a unique colour in each person, maintaining a pink-toned base. Long-lasting, its colour is even water-resistant, without losing an inch of comfort while wearing it. It intensifies hours after application. And better still, it doesn't crack!
100% Spanish quality guarantee, this is a product which complies with European quality and safety standards.
INGREDIENTS
Aloe vera: extracted from the pulp of the leaves, it has an extraordinary hydrating, softening and regenerating capacity.
Rosehip: oil extracted from the seeds with a high fatty acid and vitamin content. Active ingredient which regenerates, softens and protects the skin against external aggressions.
Cocoa butter: it is a source of vitamin E, antioxidants and minerals; an active ingredient which hydrates and nourishes the skin.
Silicone-free, sulphate-free, paraben-free, suitable for coeliacs and with 100% recyclable packaging.
HOW TO USE
Apply directly to the lips with one stroke. To intensify the colour, repeat.
Luisa María M. published the 26/06/2020 following an order made on 13/06/2020
Verdaderamente permanente Color anaranjado muy bonito
Sabine P. published the 17/06/2020 following an order made on 02/06/2020
J'adore. Très bonne tenue et ce, malgré le masque ;)
Ann Sherry V. published the 12/06/2020 following an order made on 30/05/2020
Enamorada de este tono! Queda un tono entre naranja y rosado, traslúcido, bello! Además, dura bastante.
Dolores María M. published the 11/06/2020 following an order made on 29/05/2020
Color precioso, hidratante y muy duradero.
Susana A. published the 05/06/2020 following an order made on 09/05/2020
Cor bonita
Sabine P. published the 28/05/2020 following an order made on 25/04/2020
Fidèle à sa description et très facile à appliquer. Bonne tenue dans le temps.