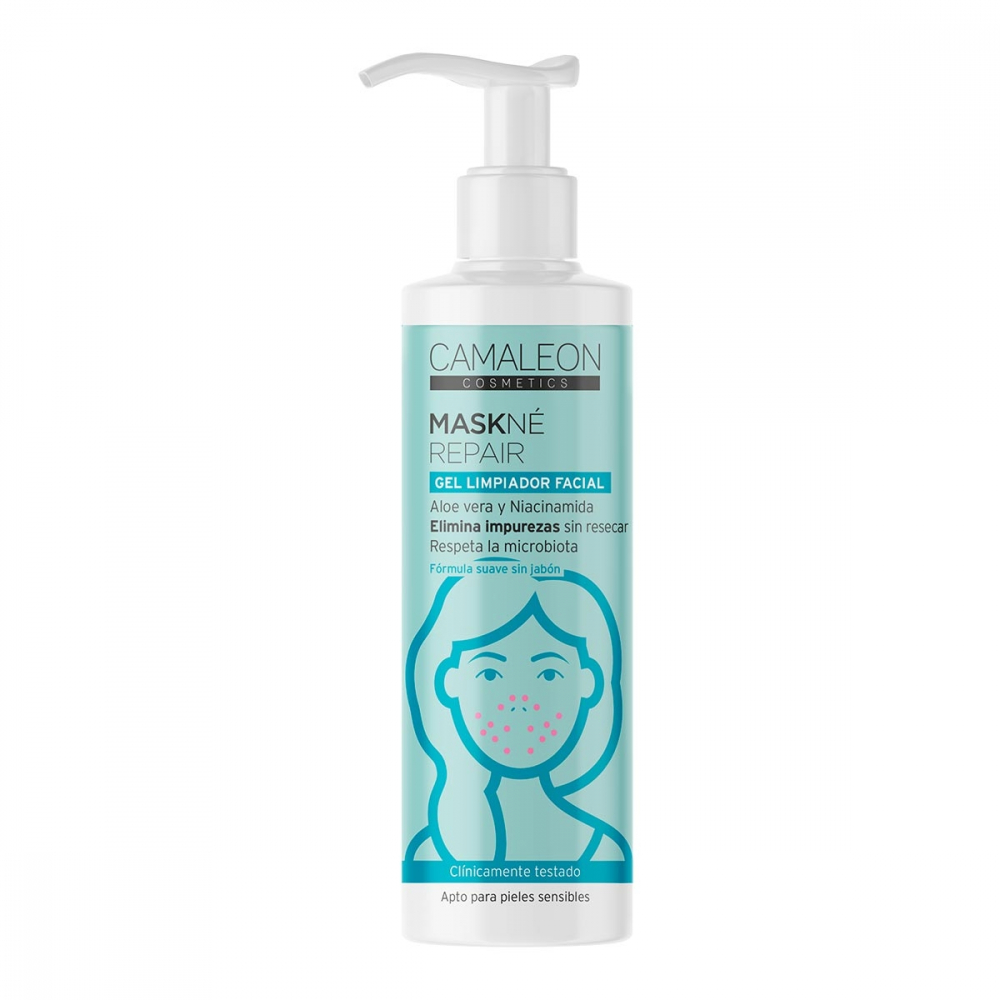  
CLEANSING GEL
Soft formula without soap, respects the microbiota.
Maskne Repair facial cleansing gel is a gentle, soap-free, non-greasy cleanser that cleans in depth and removes impurities without causing dryness.
A high-tolerance formula suitable for sensitive skin which cleanses the skin and protects it while restoring the hydrolipid film, calming the skin and providing it with that extra comfort it needs.
DERMATOLOGICALLY TESTED
SUITABLE FOR SENSITIVE SKIN

150ml
FACIAL CLEANSING GEL FOR SENSITIVE SKIN
Our high-tolerance formula is suitable for and respects the most sensitive of skin. The surfactant present in the formula is Lauryl Glucoside. This ingredient is of vegetable origin, suitable for sensitive skin, is derived from plants and is compatible with the environment and our skin.
Moreover, its high content in aloe vera, allantoin and B-group vitamins allows it to exercise a notable repairing and purifying moisturising action which restores the skin's pH and leaves it firm, soft and with a pleasantly fresh feel.
With niacinamide, panthenol and other B-group vitamins which improve moisture retention and slow ageing, it is also suitable for dry and sensitive skin since it does not cause dryness.
It gently removes remains of impurities including the toughest make-up and helps to maintain the skin's own natural balance.
INGREDIENTS
Aloe vera: the main curative agent of this plant is the soluble fibre which acts as a natural barrier, retaining moisture and providing a refreshing effect. It possesses a complex of tannins with astringent effect. It also speeds healing, which is why it is used on damaged skin.
Panthenol: panthenol improves hydration and reduces skin itching and inflammation. The great moisturising power of panthenol means that the skin does not lose water, preventing dehydration. One of the reasons for including this ingredient is to stimulate and promote skin renewal.
Allantoin: with astringent, anti-inflammatory and moisturising properties. Noted for application in products for sensitive, dry and irritated skin.
Niacinamide: one of the B-group vitamins. Strengthens the barrier function, reduces sebum production, protects and regulates melanin production. Used externally in formulations for acne-prone skin. Improves texture, calms intensely and reduces redness.  
Yeast extract: hydrolysed yeast extract is a skin conditioning agent used in cosmetics and skin care products since it has the capacity to act against oxidative stress and improve skin condition. It has a regenerative activity which makes it highly recommended for skin with a tendency to acne.
INGREDIENTS
AQUA (WATER), LAURYL GLUCOSIDE, ALOE BARBADENSIS LEAF JUICE, THIAMINE HCl, PANTHENOL, RIBOFLAVIN, PYRIDOXINE HCl, FAEX (YEAST) EXTRACT, ALLANTOIN, NIACINAMIDE MAGNESIUM CHLORIDE, CARBOMER, TRIETHANOLAMINE, PROPYLENE GLYCOL, SODIUM HYDROXIDE, ALCOHOL DENAT., SODIUM CHLORIDE, MAGNESIUM NITRATE, METHYLISOTHIAZOLINONE, METHYLCHLOROISOTHIAZOLINONE, PARFUM (FRAGRANCE), BENZYL SALICYLATE, CI 42090, CI 19140.
CLEANSING GEL FOR ACNE
Facial cleansing is the first treatment step to improve Maskne. You will need to choose a non-aggressive gentle soap which cleans without irritating, helps to reduce pore blockage, calms and at the same time respects the skin.
Maskne Repair cleaning gel contains niacinamide in its formulation, which reduces sebum production, as well as yeast extract with regenerative activity and aloe vera with astringent properties which accelerate healing.
It does not contain any oily components making it ideal for cleaning seborrhoeic, acne-prone skin. It cleanses dirt and make-up in depth and scours away dead skin.
HOW TO APPLY THE MASKNE FACIAL CLEANSING GEL
Facial cleansing is essential before and after wearing a mask as a preliminary step before applying your usual treatment, restricting products containing active agents which can cause irritation.
Apply to previously wetted face and neck and rub gently with your fingertips in circular movements. Rinse with warm water.
Use it in your daily routine before your usual cream and the Biofilm Maskne Repair, and after using a mask before you apply the Repairing Cream.
Raquel C. published the 26/05/2022 following an order made on 30/04/2022
Lo utiliza mi hijo, lleva poco tiempo pero parece que las espinillas las tiene un poco mejor.
Paz Mary L. published the 23/05/2022 following an order made on 25/03/2022
El gel es indispensable para que la cara esté perfecta después de usar la mascarilla.
Bárbara M. published the 22/02/2022 following an order made on 27/01/2022
Muy bueno el jabón, no hace espuma y deja la piel hidratada.
Bárbara M. published the 22/02/2022 following an order made on 27/01/2022
Genial este jabón, no hace espuma y deja la piel jugosa y limpia.
Victoria L. published the 14/01/2022 following an order made on 20/12/2021
Va muy bien la piel la deja suave y los granitos lo seca bastante es un muy producto
Ainara L. published the 14/09/2021 following an order made on 16/08/2021
Estupendo