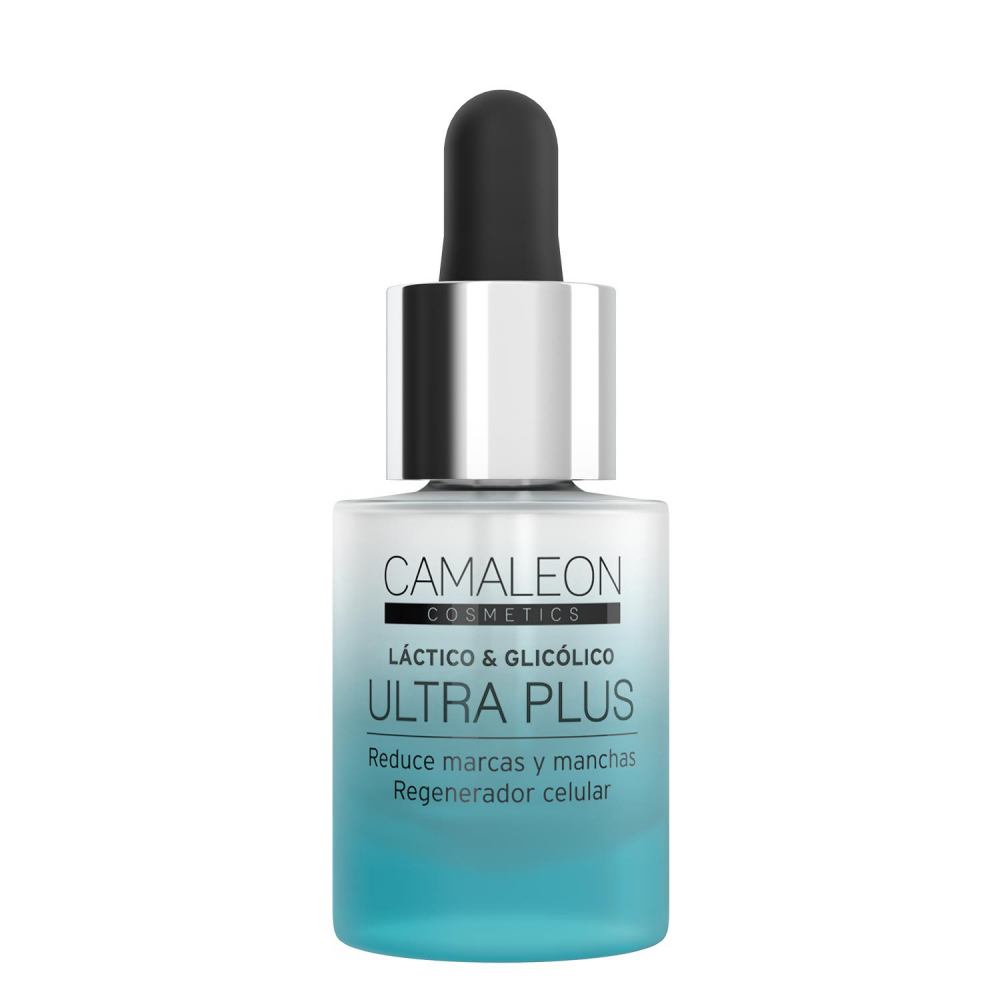  
GLYCOLIC ACID TREATMENT ULTRA PLUS
Visible results in 7 days!
Glycolic acid treatment with 97% natural ingredients. Formulated with a complex of natural extracts rich in alpha hydroxy acids, which act as exfoliants, promoting cell proliferation. As these alpha hydroxy acids come from natural extracts, they don't cause skin irritation. The glycolic acid peel has a proven action on dark spots, speeding up cell renewal, reducing pigmentation and increasing skin collagen production.
SUITABLE FOR SENSITIVE SKIN
PARABEN FREE · SILICONE-FREE · PRESERVATIVE-FREE · COLOURING-FREE

15ml
For
combination and oily skin
REGENERATING LACTIC AND GLYCOLIC ACID PEEL
Glycolic acid for facial exfoliation, which weakens the junctions between dead cells, with a powerful cell renewing action. Reduces dark spots caused by the sun, thanks to its cell regenerating and depigmenting power. Reduces marks caused by acne. Stops the formation of free radicals, which cause premature ageing.
During the day, we recommend using it in combination with a moisturising product which contains vitamins or hyaluronic acid.
In the evening, since the renewing activity increases at night, we recommend mainly using it before bed, as it enhances its benefits.
LACTIC AND GLYCOLIC ACID ON SUNSPOTS AND SCARS 
Factors such as sun damage, age, the environment and stress slow down the cell renewal process, which causes an accumulation of dead skin cells.
Cell renewal: clinical studies demonstrate that the renewal capacity increases by 24% in 15 days.
Non-irritating: studies carried out on volunteers with sensitive skin demonstrate that it doesn't cause irritation. 
Doesn't cause dark spots and can be used all year.
ACTIVES INGREDIENTS
Alpha hydroxy acids help to exfoliate the skin, removing the layer of dead cells and penetrating the dermis much deeper, boosting collagen generation.
The lactic and glycolic acid peel contains a complex of natural AHA's derived from 5 natural extracts: blueberries (lactic acid) sugar cane (glycolic acid), maple (malic and tartaric acid), orange and lemon (citric acid).
With organic lemon fruit water: A substitute for ordinary water, this plant extract is obtained directly from the lemon, which enhances the efficacy of the formula's active ingredients. Certified organic by Ecocert, biocompatible with the body, with essential oils and mineral salts which enhance the efficacy of the glycolic acid exfoliating treatment.
INGREDIENTS
CITRUS LIMON FRUIT WATER*, AQUA, VACCINIUM MYRTILLUS FRUIT EXTRACT*, PROPANEDIOL, SACCHARUM OFFICINARUM EXTRACT*, METHYLPROPANEDIOL, CITRUS AURANTIUM DULCIS FRUIT EXTRACT*, CITRUS LIMON FRUIT EXTRACT*, XANTHAN GUM, CAPRYLYL GLYCOL, ACER SACCHARUM EXTRACT*, SCLEROTIUM GUM, LECITHIN, PULLULAN, SILICA, PARFUM, [HEXYL CINNAMAL, D-LIMONENE]. *Ingredient sourced from organic farming. Natural ingredients.
DISCOVER YOUR IDEAL TREATMENT
We must not forget that our skin can occasionally or constantly suffer from different skin conditions that we can combat.
We offer the perfect treatment for each of these conditions: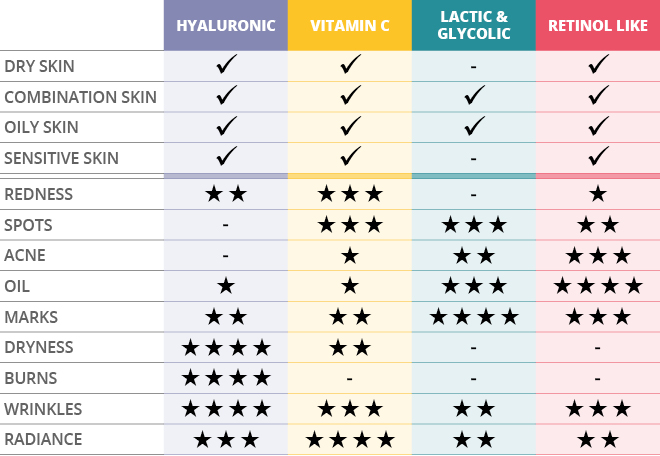 YOUR TREATMENT FOR CORRECTING ACNE MARKS
Alpha hydroxy acid, more commonly known as glycolic acid, is an active ingredient that should be included in all routines, as it improves the skin condition at any age.
It's an excellent exfoliating agent that weakens the junctions between the cells of the outer skin layer to promote cell renewal.
Treatment for acne marks.
Reduces the size of pores and clarifies dark spots.
Enables the capillaries to dilate and provide more oxygen. 
Increases collagen and hyaluronic acid production.
When choosing a glycolic acid online or at a pharmacy or herbalist, you should consider two features: the pH and the concentration.
The formula's pH is key, because the higher the pH, the lower the active acid concentration, and therefore, the lower the efficacy. 
If the concentration is below 4%, it causes a gentle exfoliation, and anything above 20% should only be used under medical prescription. Therefore, it's somewhere in between that you'll find the ideal formulas for treating the most common signs of ageing in the long-term and improving the skin texture, such as CAMALEON glycolic acid, with a 15% concentration of natural AHAs.
HOW TO USE
Apply day and night to a dry, cleansed face, using light strokes, especially concentrating on marks and dark spots. Thanks to its fluid texture, only a small amount is needed.
Can also be used as a serum by applying it before your usual treatment or by adding a few drops of the concentrate to your cream at the time of application.
MAR G. published the 22/05/2022 following an order made on 24/04/2022
llevo pocos dias usando
SAGRARIO C. published the 16/05/2022 following an order made on 21/04/2022
Muy bueno
Victoria M. published the 01/05/2022 following an order made on 05/04/2022
Es efectivo
Irene M. published the 27/04/2022 following an order made on 06/03/2022
Textura muy ligero y bien olor. Se absorbe muy fácil. Aún es pronto para valorar si hace efecto
Rosa P. published the 05/11/2021 following an order made on 11/09/2021
El formato es cómodo y aunque pequeño, cunde,la textura es ligera y se absorbe bien. No huele tan apenas. La eficacia comparando con otros productos de glicólico similares,en mi caso es nula. No he notado nada de nada y llevo días usándolo.. Si que esta claro que algo ha de ir haciendo porque me han salido los típicos granitos que salen al usar estos productos ya que van "quitando " celula muerta y lo que haya debajo,lo "saca". Pero no he notado el efecto deseado en cuanto a piel suave o afinada. Mi piel es mixta y sensible(en este aspecto ninguna molestia) No repetiría,estoy deseando acabarlo para probar algo más efectivo
Comment from Camaleon Cosmetics the 07/10/2021
¡Hola Rosa! Muchas gracias por tu valoración :) Sentimos mucho que no te haya gustado el sérum láctico y glicólico. Si quieres notar la piel suave o afinada y además tienes la piel sensible como nos comentas, te recomendamos que combines el sérum láctico y glicólico con el retinol like por las noches. Usa dos noches a la semana el glicólico, por ejemplo lunes y jueves, y el resto de la semana el retinol. Cada piel es diferente y cada una necesita una rutina. ¡Saludos!
Diana G. published the 25/10/2021 following an order made on 29/09/2021
No dudes en probarlo