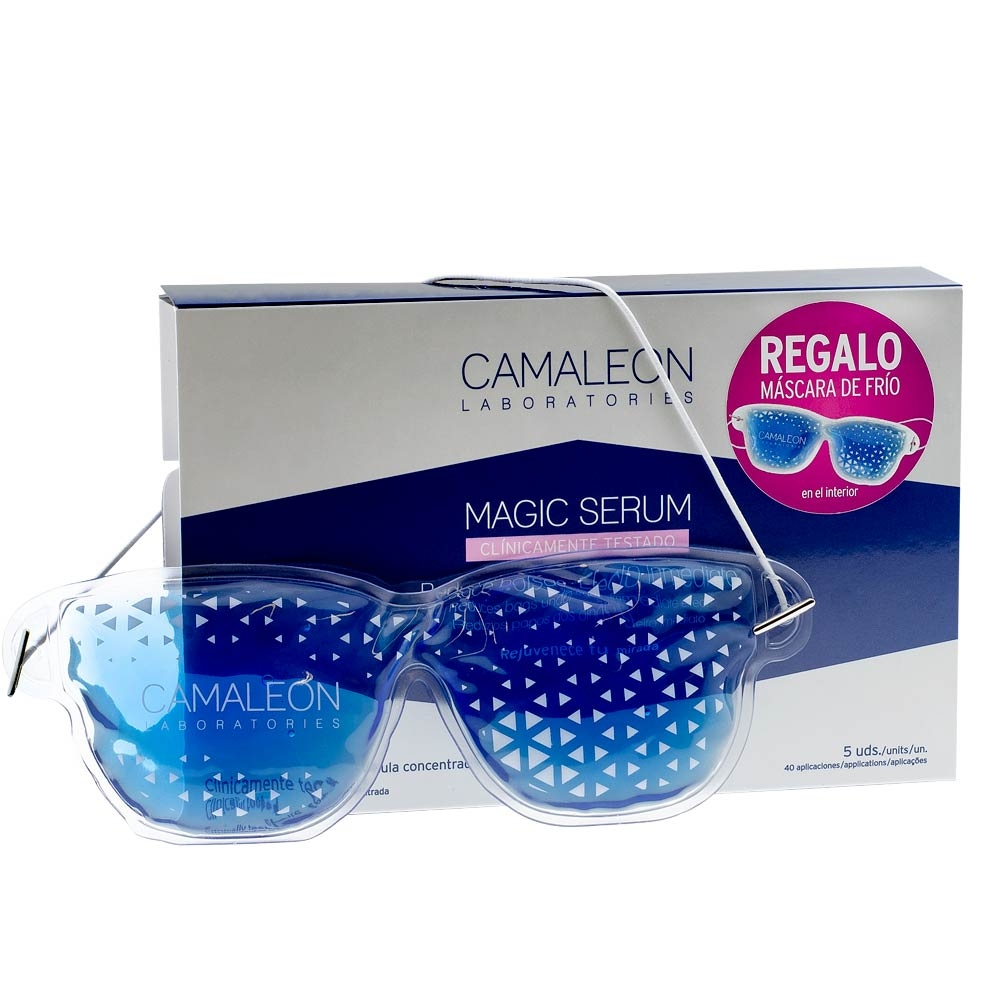  
GOODBYE BAGS AND DARK CIRCLES
Say goodbye to your bags and dark circles with this special pack of 5 tubes of Magic Serum and a free cooling mask at an incredible price.
Relax your eyes with the cooling mask and reduce bags, dark circles and fine expression lines.
CLINICALLY TESTED
PARABEN-FREE · SILICONE-FREE


5uds x 2ml
Suitable
for coeliacs and vegans
DESCRIPCTION
This pack of 5 tubes of Magic Serum and a free cooling mask is perfect for those with a tired or congested eye area. Lack of sleep, genetic factors or periods of stress are particularly visible in the eye area, leading to the appearance of bags and dark circles.
Magic Serum acts immediately to correct bags and dark circles, making them disappear in just a few minutes. Its effect, which is temporary but without the complications of surgery, is the easiest way to get rid of your bags. The cooling mask is perfect to relax and calm the eye area. Store it in the fridge and take a moment to yourself every day by placing it over your eyes for a few minutes.
NATURAL ACTIVE INGREDIENTS
This product has proven results from independent studies and owes its effectiveness to the combination of two powerful active ingredients:
Argireline®, a hexapeptide that prevents muscle contraction by blocking neurotransmitters, reducing the movement of the muscles in the area and preventing the formation of wrinkles.
Active minerals, silicates that capture the water that forms the bag, absorbing it and making it disappear temporarily. 
INGREDIENTS
AQUA (WATER), SODIUM SILICATE, MAGNESIUM ALUMINUM SILICATE, ACETYL HEXAPEPTIDE-8, CAPRYLYL GLYCOL, ETHYLHEXYLGLYCERIN, PHENOXYETHANOL, SODIUM CHLORIDE, CI 19140, CI 16035.
Clinical studies prove its efficacy:

90% Immediate tightening effect
80% Reduction of eye bags and dark circles
80% Reduction of expression lines
Dermatologically tested
The results of the "Use test* for the acceptability, subjective efficacy and tolerance of a cosmetic product", demonstrate that Magic Serum by CAMALEON COSMETICS is non-irritating, and therefore, it has very good skin and eye compatibility.
* Studies carried out by Zurko Research S.L.
HOW TO USE
Magic Serum: Ensure your face is dry and lightly dab a small amount of product, the equivalent of a grain of rice, on your bags without dragging it across the skin. Leave it to act for a few minutes and avoid making expressions, speaking or any kind of movement so that the product can take full effect. You can speed up the process by fanning the area. Closely follow the instructions to ensure that the product works correctly.
Cooling mask: Keep your cooling mask in the fridge and place it over your eyes whenever necessary. Its cooling effect relaxes and decongests the area.
Antonia Maria M. published the 26/06/2022 following an order made on 19/05/2022
disimula las ojeras, muy conteta con el producto.
MAR G. published the 22/05/2022 following an order made on 24/04/2022
no lo he probado aun
Noelia M. published the 21/05/2022 following an order made on 26/04/2022
Mi marido está encantado...lo usa a diario y volveré a comprarselo.cuando se acabe
Isabel T. published the 19/04/2022 following an order made on 25/03/2022
Todo correcto
Carmen Mari F. published the 19/03/2022 following an order made on 23/01/2022
Eno esta mal,parece que da algo de resultado,seguiré probando haber que tal
Pilar T. published the 15/02/2022 following an order made on 22/12/2021
Aún no lo he probado