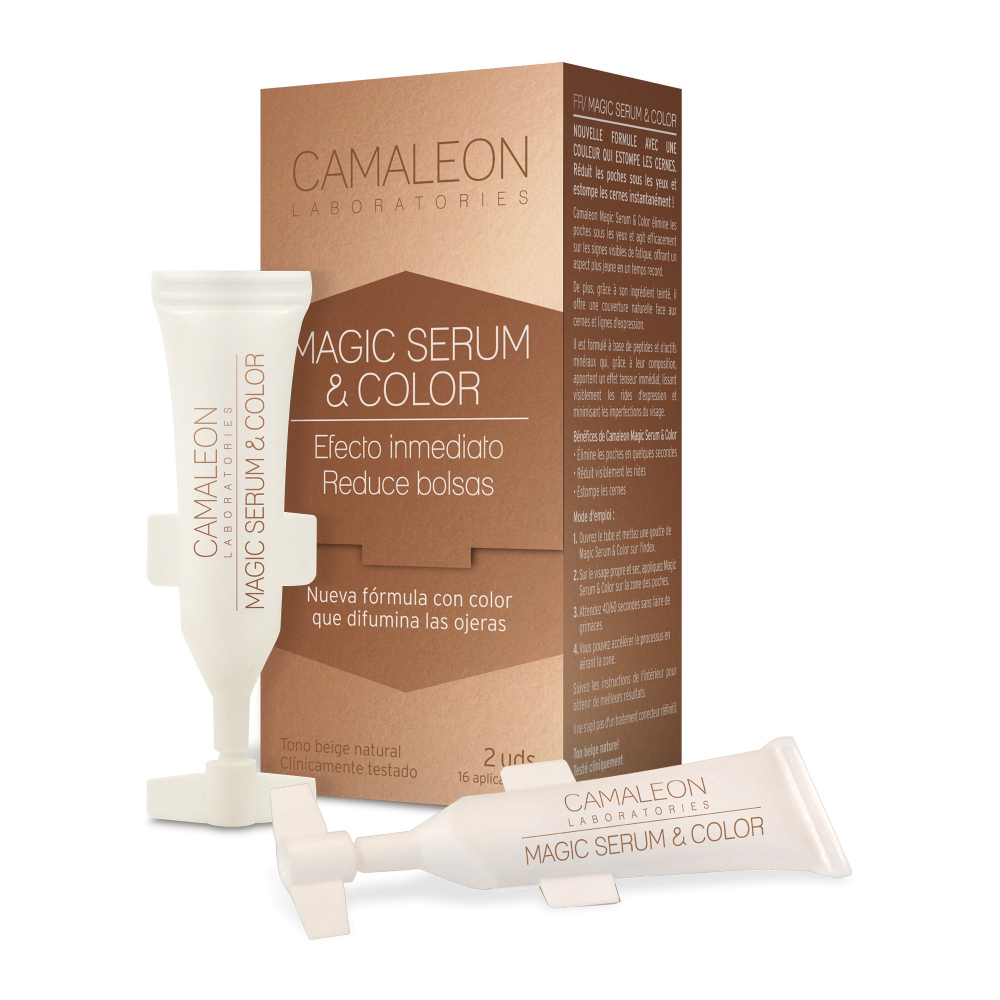  
MAGIC SERUM & COLOR
Immediately reduces eye bags!
NEW FORMULA WITH COLOUR
Anti-eye bag efficacy with a hint of colour to soften dark circles. Corrects the visible signs of skin ageing, providing a more youthful appearance in record time.
Acts effectively on eye bags and fine expression lines. Amazing immediate results.
CLINICALLY TESTED

2uds x 2ml
Suitable
for coeliacs and vegans
DESCRIPTION
Magic Serum & Color corrects the visible signs of skin ageing, providing a more youthful appearance in record time. Acts effectively and instantly on eye bags and dark circles. Rejuvenates the expression and revitalises the look of the skin.
Its results are striking and immediate. Thanks to its hint of colour, it's the perfect solution for softening dark circles.
Eye bags and dark circles, which appear due to factors such as genetics, age, diet, lack of sleep and general bad habits, are very difficult to get rid of completely by using conventional treatments. 
Unlike long-term treatments, MAGIC SERUM acts immediately to visibly correct the signs of tiredness and fatigue, adding radiance to the eyes in just a few seconds. 
NATURAL ACTIVE INGREDIENTS
The development of this product is mainly based on the properties of cosmetic active ingredients which, when combined, create a highly effective product.
Argireline®, a hexapeptide developed using molecular engineering, which has revolutionised the current world of cosmetics for being an excellent anti-wrinkle ingredient which reduces muscle contractions and expression lines and is highly effective against the formation of new wrinkles.
Silicate mineral active ingredients, known for their powerful cosmetic activity, which promote a skin-tightening effect and achieve a temporary eye bag-reducing effect, counteracting the natural ageing process.
Coloured mineral pigments which even the tone, softening dark circles.
INGREDIENTS
AQUA (WATER), SODIUM SILICATE, CI 77891, MAGNESIUM ALUMINUM SILICATE, GLYCERIN, XANTHAN GUM, ACETYL HEXAPEPTIDE-8, CAPRYLYL GLYCOL, ETHYLHEXYLGLYCERIN, PHENOXYETHANOL, CI 77491, CI 77492, CI 77499.
HOW TO USE
Apply a small amount per eye to dry, cleansed skin, using small tapping motions on the lower lid and around the eye (crow's feet). Don't make any gestures for a few seconds until the product acts completely. To speed up the drying process, you can use a fan or piece of paper, to bring air to the area.
Too much product does not improve the results.
The product can be removed with water or cleanser.
Step 1: Open the bottle and put a drop of Magic Serum & Color on your index finger.
Step 2: Apply Magic Serum & Color to the dry, cleansed skin of the eye bag area.
Step 3: Wait 40/60 seconds without making any gestures.
Step 4: You can speed up the process by fanning the area.
If you want to apply make-up, always do so after Camaleon Magic Serum & Color has completely absorbed, avoiding the area where you have applied the product. 
The product can lose efficacy on contact with water; therefore, we recommend avoiding water-based make-up, or make-up with a high moisture level (BB cream, CC cream). 
Victoria S. published the 19/12/2021 following an order made on 24/11/2021
Cumple lo que promete
LAURA M. published the 26/06/2021 following an order made on 16/05/2021
Me parece que se cuartea un poco tras unas horas aplicado
Comment from Camaleon Cosmetics the 31/08/2021
¡Hola Laura! Muchas gracias por tu opinión. El Magic Serum es un producto de gran efectividad, pero hay que tener cuidado a la hora de aplicarlo. Aplica muy poca cantidad con el dedo a toquecitos sobre la bolsa u ojera limpia, espera de 1 a 3 minutos sin gesticular y abanica la zona para que se absorba más rápido. Si después vas a usar base de maquillaje, recuerda que no puede ser acuosa, ya que el efecto de Magic Serum desaparecerá y se cuarteará. ¡Saludos!
Virginia ?. published the 03/06/2021 following an order made on 23/05/2021
Ya lo conocía por compra en farmacia, muy buen producto para disimular ojeras oscuras.
Alicia A. published the 06/04/2021 following an order made on 29/01/2021
Funciona muy bien, incluso en pieles muy maduras
Ana M. published the 12/03/2021 following an order made on 28/02/2021
Me gusta el producto aunque da un poco de sensación de tirantez.
Maríalui R. published the 08/02/2021 following an order made on 12/01/2021
Me ha gustado mucho. La única pega que el envase es muy pequeño.