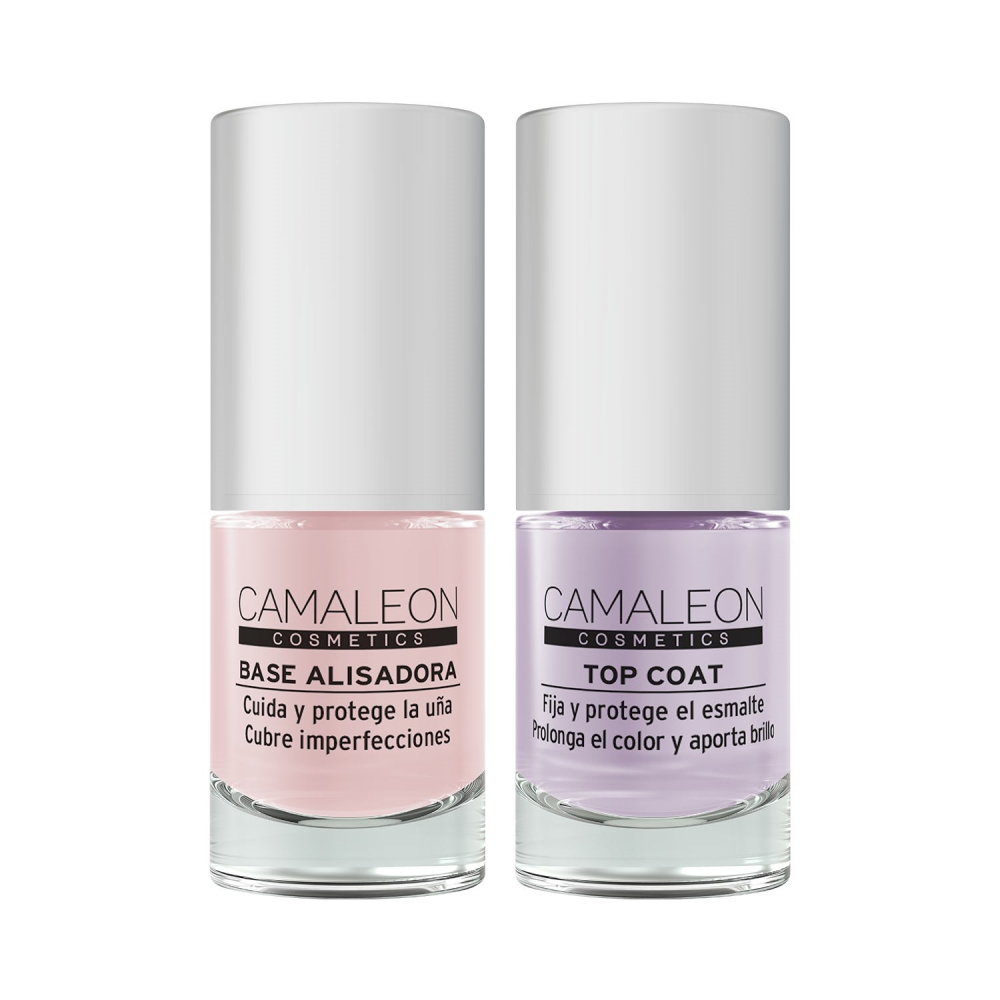  
PERFECT MANICURE PACK
Get a perfect manicure with these two steps!
Prepare and protect your nails with the base coat before applying the polish. Protect the colour and add strength and shine to your nails with the top coat so that your manicure stays perfect for longer - forget about touch-ups!

BASE AND TOP COAT FOR A SMOOTHING EFFECT AND EXTRA SHINE
It's normal for the nail surface to be uneven; to achieve a smoother finish with colour nail polish it's a good idea to apply a treatment before to the colour to protect the nail and smooth these small imperfections.
If you also want your manicure to look perfect for longer and protect it from knocks and scratches that make the polish crack, the top coat treatment provides extra shine and hardness making it much more resistant. 
Combine both treatments for a perfect manicure.
TREATMENTS TO PROTECT YOUR NAILS
Combine the two Camaleon Cosmetics treatments and get the effect you are looking for in your nail polish whilst caring for and protecting your nails.
These treatments are versatile and multi-use. The smoothing base coat with a light tone can be used to embellish your nails if they have any irregularities so that they look healthier, with a natural tone suitable for both men and women. You can use it alone, before colour nail polish or before applying the top coat. It has a transparent finish to give the nail extra hardness. The top coat can also be applied directly to the nail if you just want a colourless but shinier nail.
What's more, all of our nail products are enriched with natural active ingredients to care for and protect your nails.
INGREDIENTS
Vitamin E: Included in both treatments, it helps to prevent fragile, brittle, yellow and deformed nails.
The smoothing base is rich in coconut oil, which hydrates and helps nails with growth problems by strengthening and nourishing them and preventing them from breaking.
The top coat contains bamboo extract, which provides shine and evenness, and liposiliol, an organic silicon that hydrates and restructures the nail. 
HOW TO USE
Before your manicure: Prepare the nail with the smoothing base.
- Apply one coat of the product to clean nails and allow to dry.
- It can also be used as a natural polish.
- It protects the nail and strengthens the cuticles. 
- It smooths imperfections and helps define the colour.
After nail polish: Protect the polish with the top coat. 
- Finish with a thin layer covering all of the polish to the tip of the nail, which is the most brittle part.
- It prevents colour damage and helps polish to remain intact for longer. 
Eva P. published the 22/02/2021 following an order made on 06/02/2021
Encantada, me dura mas mi manicura utilizando esto dos productos.
Cecilia V. published the 11/02/2021 following an order made on 28/01/2021
....
Núria R. published the 22/01/2021 following an order made on 10/01/2021
No le pongo el 4 porque creo que son pequeños
Marta D. published the 22/01/2021 following an order made on 30/11/2020
Bien.
Montse D. published the 16/01/2021 following an order made on 21/12/2020
El pack de manicura perfecta deja las uñas ideales. Dura bastante la manicura. Relación calidad precio muy bueno, lo recomiendo.
inmaculad Purificación P. published the 15/01/2021 following an order made on 18/12/2020
Muyyyy buena