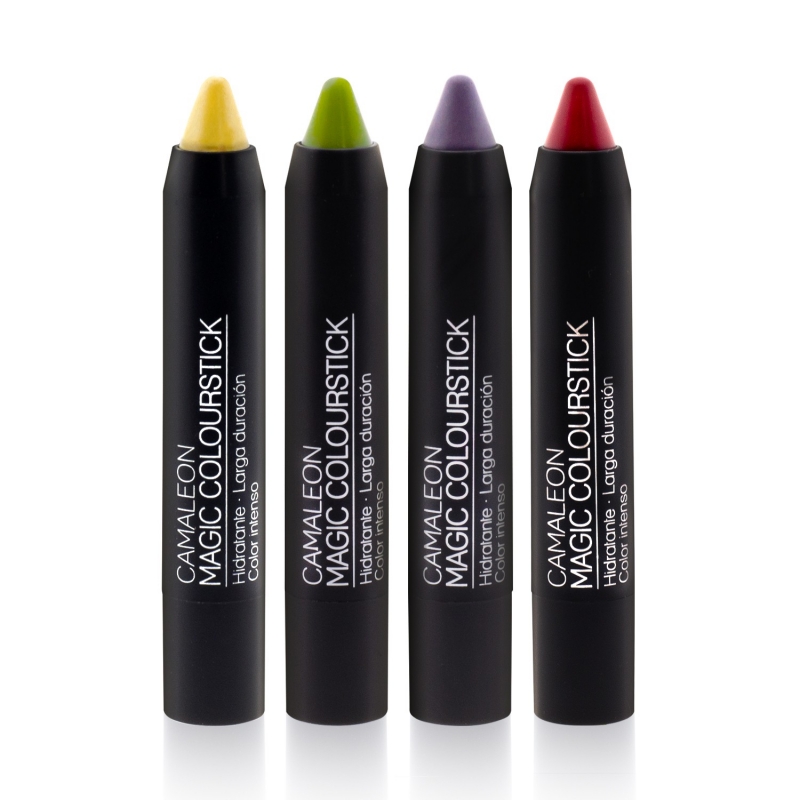  
MAGIC COLOURSTICK PACK x 4
Discover the colour that keeps up with you, with your Magic Colourstick 4 pack!
Hydrating lipsticks that last 12 hours. Intense colour.
Four shades which change with your skin: yellow, red, grey and green. Resistant, even in water! 

4uds.
DESCRIPTION
Long-lasting and intense-coloured moisturising lipsticks. Enriched with aloe vera, rosehip and cocoa butter. A soft and creamy texture which hydrates your lips and maintains an intense colour that can keep up with you.
All-day magic lipsticks that nourish, regenerate and protect against external aggressions, while providing a shade which enhances your natural colouring. Their highly-pigmented formula with a high concentration of emollient agents and powerful antioxidants such as vitamins B, C and E, perfectly combines hydration, duration and colour.
The key is in the special pigments which react to the moisture of the skin and air to develop an exclusive personalised colour, maintaining a pink-toned base. 
INGREDIENTS
Aloe vera: extracted from the pulp of the leaves, it has an extraordinary hydrating, softening and regenerating capacity.
Rosehip: oil extracted from the seeds with a high fatty acid and vitamin content. Active ingredient which regenerates, softens and protects the skin against external aggressions.
Cocoa butter: it is a source of vitamin E, antioxidants and minerals; an active ingredient which hydrates and nourishes the skin.
Silicone-free, sulphate-free, paraben-free, suitable for coeliacs and with 100% recyclable packaging.
HOW TO USE
Apply directly to the lips with one stroke. To intensify the colour, repeat.
Marta R. published the 10/09/2020 following an order made on 31/08/2020
Cada color queda más mono aún y no se van con el paso de las horas. No uso otro labial.
Luz B. published the 09/08/2020 following an order made on 22/07/2020
Colores naturales
EVA B. published the 31/07/2020 following an order made on 20/07/2020
Los labiales son una pasada, realmente aguantan todo el día, no manchan y encima hidratan. Es lo que necesitaba para cuidar mis labios bajo la mascarilla.
José María G. published the 29/07/2020 following an order made on 02/07/2020
Excelente
Raquel B. published the 23/07/2020 following an order made on 11/07/2020
Colores muy vivos, máxima hidratación, no se mueve con la mascarilla y no quedan los labios resecos.
Belén Ana A. published the 26/06/2020 following an order made on 15/06/2020
Pintalabios duradero y colores muy alegres